Salvador Dali produced glass sculptures called pâte de verre from 1968 to 1984 for the Daum Crystal company in France. Daum is a prestigious French glass company recognized as one of the major forces for innovative glassmaking beginning with the Art Nouveau movement of the early 1900s to present.
Daum commissioned a few famous sculptors, designers, and painters to design limited editions sculptures for their company in 1965. The collaboration between Daum and Dali began in 1968 with his work, Fleur du mal, a title drawn from the collection of poems by the French 19th century poet, Charles Baudelaire. Dali was enthralled by the translucence that can be achieved in pâte de verre.
Dali utilized the wax-like appearance of the glass to reproduce his iconic image of a limp watch draped over a metal coat hanger based on his 1931 painting, The Persistence of Memory. Dali revisits his fascination with the Venus de Milo in Le désir hyperrationnel produced in 1984.
Venus de Milo with Drawers (1988)
Pale blue glass paste from DAUM Glassworks of Nancy, France
Venus de Milo with Drawers (1988)
Pale blue glass paste from DAUM Glassworks of Nancy, France
Early in his career, Dali was inspired by Sigmund Freud's psychoanalytic interpretations of dreams and the unconscious. In his Venus de Milo with Drawers, 1936. Dali cut six drawers into a model of the famous nude of Aphrodite. The opening in the sculpture represents an area of the unconscious which only psychoanalysis are able to penetrate. Dali immortalizes old obsessions but also engages in a new dialogue with the modern medium of pâte de verre glass.
At the end of 1967, the first Dali for Daum piece, L'important c'est la rose, was created based on two plastic bottles found on a beach rendered in yellow glass paste seemingly merging to form a vase, on top of which balance two ceramic snails on rose shards.
L'important c'est la rose This Daum Crystal sculpture is historical because it was the first work Salvador designed for Jacques Daum near the end of 1967. It was an immediate expression of the boldness, confidence, and mutual understanding of the partners. It defined Surrealist beauty and was limited to 150 sculptures.
Fleur du mal Also created in 1967 was a sculpture based off a poisonous flower with a Baudelairean (a French poet) title. His poem inspired Dali to create this Daum Crystal sculpture. He wanted to pay tribute to the plant decorations of the Ecole de Nancy and Daum's celebrated past. It was produced in purple, blue, and green/yellow.
Debris of an Automobile Giving Birth to a Blind Horse Biting a Telephone Daum Crystal Sculpture y Salvador Dali
"Vert d'Espagne" (Green from Spain)
Sculpture in two sections, of yellow and green-colored glass paste
Signed Dali and Daum on plinth Numbered 95/200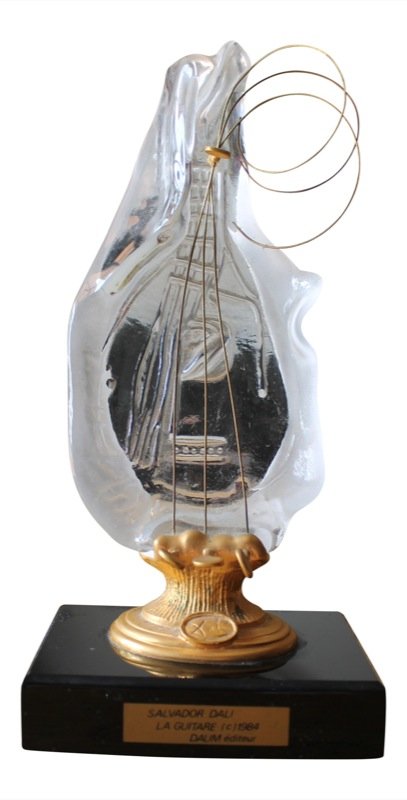 Salvador Dali (Spain 1904 -1989) 'La Guitare' crystal glass sculpture with Daum, circa 1984. With certificate. 7.5"h. Sculpture of glass and gilt metal.
Salvador Dali-Daum
Pate de Verre Guitar
Salvador Dali
Triomphale
Size: 10.5 x 10.5 in | 27 x 27 cm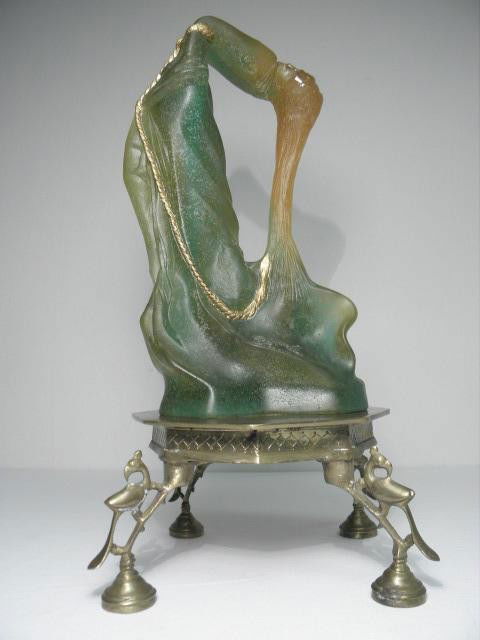 Salvador Dali - Daum Crystal
Venus de Milo Hysterique 1983
Measures 14" tall x 8" wide.
Salvador Dali; Daum
Pate De Verre Circa 1980
Salvador Dali, DAUM, 1976
CROSS LEIBNIZ
Salvador DALI (1904-1989)
Malebranche Fish (1973)
Golden green-yellow glass paste from DAUM Glassworks of Nancy, France
SALVADOR DALI
PATE DE VERRE SCULPTURE
signed, numbered and dated
height: 15 inches; width: 8 1/2 inches
Acknowledgment: Salvador Dali Museum,
Louise Blouin

,
Twenty Eleven Theme,