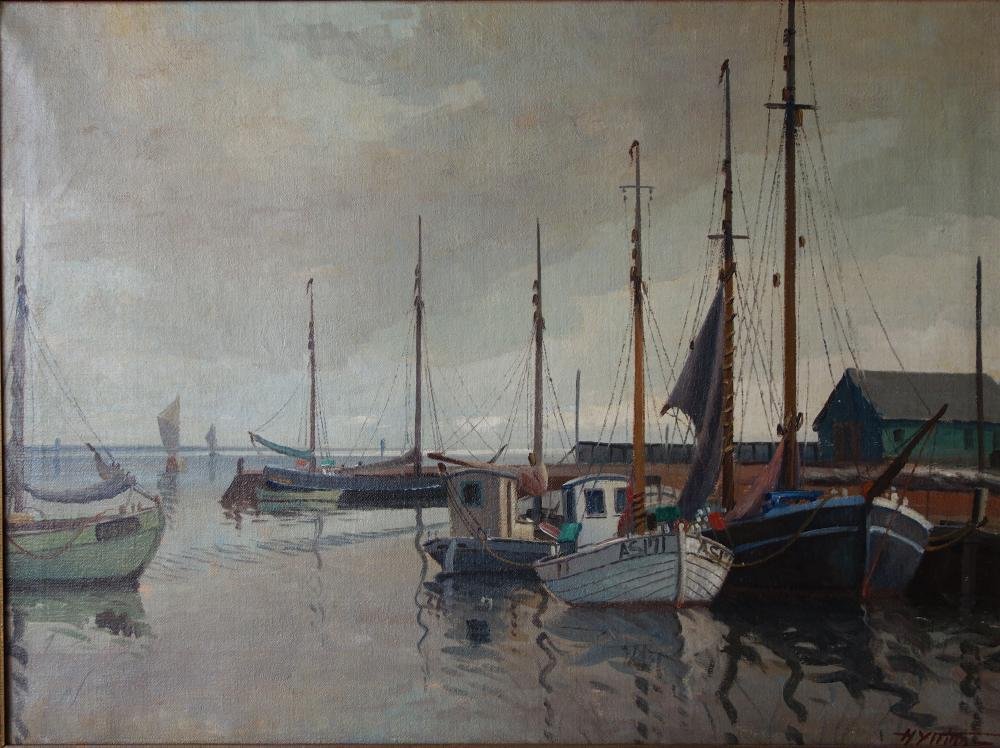 Holger Ytting (b-1900)
Ships in the Harbor
Sailing boats in a Dutch harbor on the Sound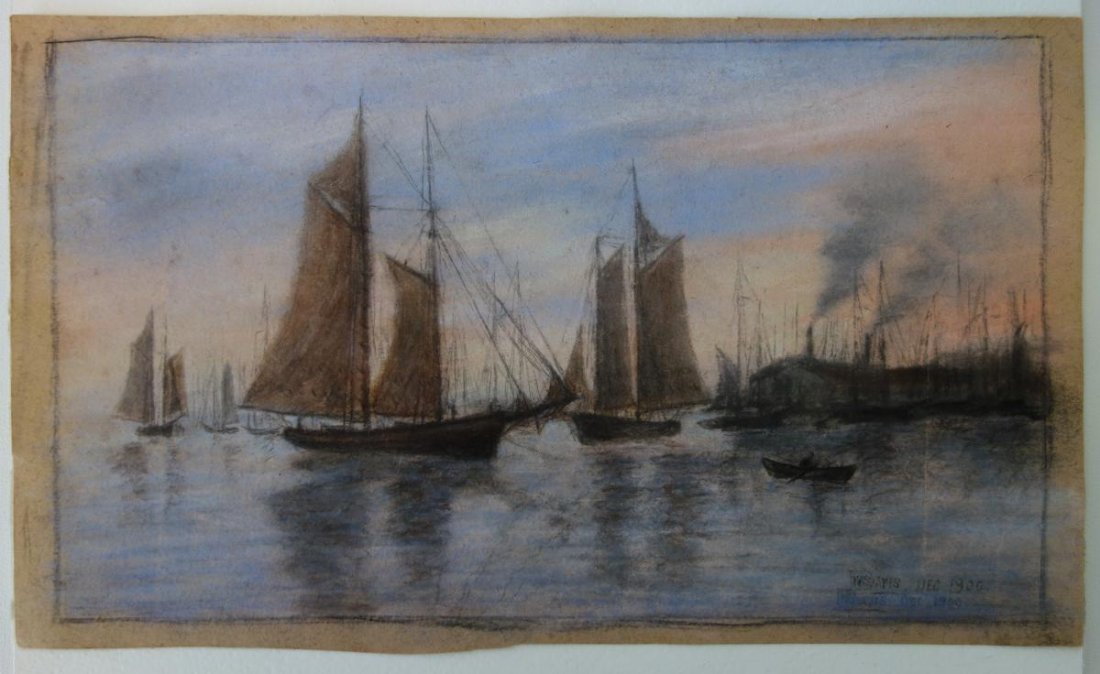 William Steeple Davis (1884-1961)
depicting sailing ships in a harbor
Signed and dated Dec 1900
William Steeple Davis (1884-1961)
"The Rendezvous"
William Steeple Davis (1884-1961)
"Cruise Past Cape Poge"
William Steeple Davis (1884-1961)
"Coming out of the Fog''
William Steeple Davis (1884-1961)
"Becalmed off Tarpaulin Cove"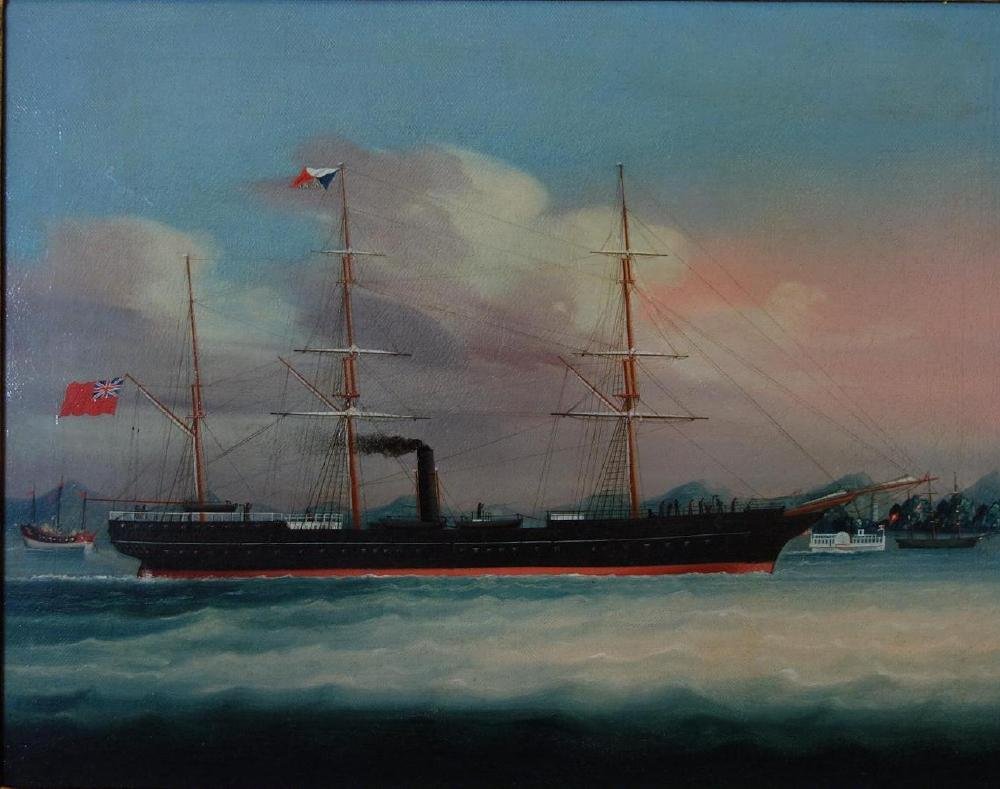 19th c Chinese Export Ship Painting
Chusan
Chinese Export painting, 19th century. The Chinese School painting depicts the P & O Steamship Chusan. Oil on canvas measuring 11" x 14". Gold leaf frame measuring 16" x 19"
The Chusan was built in 1852 by Miller, Ravenhill and Salkeld, Low Walker, Newcastle, England for the Peninsular and Oriental Steam Navigation Co. Under the command of Captain Henry Down RNR, Chusan was the first P. and O. steamship to operate a regular mail ship service between the United Kingdom and Australia, via Singapore. She was also only the second steamship to trade in Australian waters. More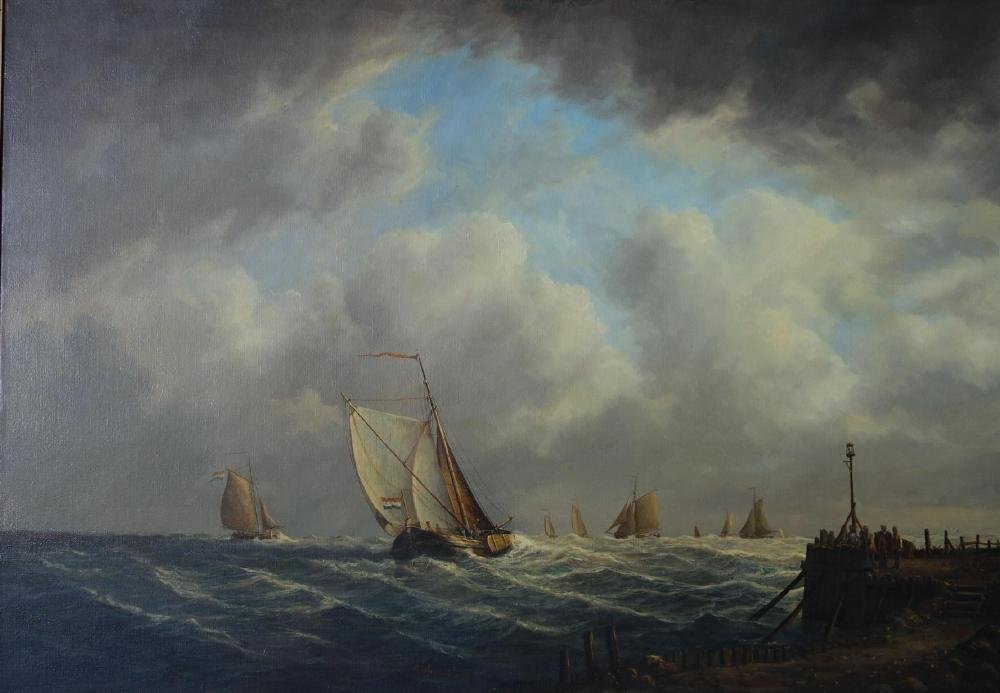 Peter Sterkenburg (1955-2000)
Ships at Sea
Peter J. Sterkenburg was a Dutch visual artist who was born in 1955. Several works by the artist have been sold at auction. The artist died in 2000.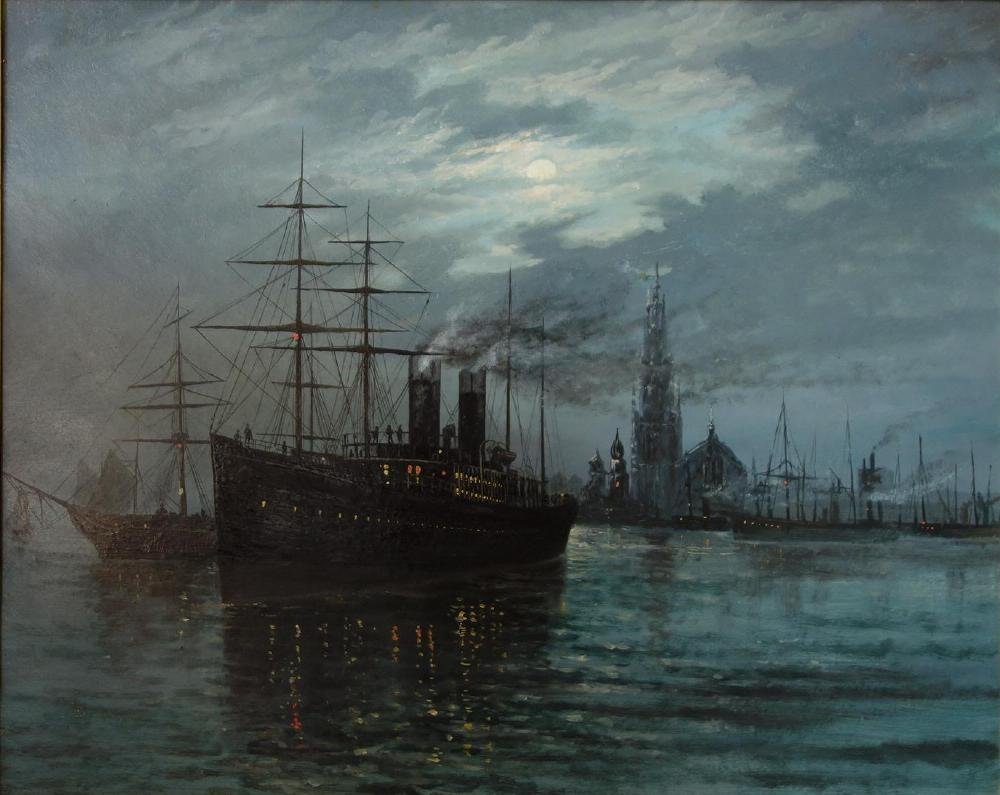 Belgium School Antwerp
Marine Painting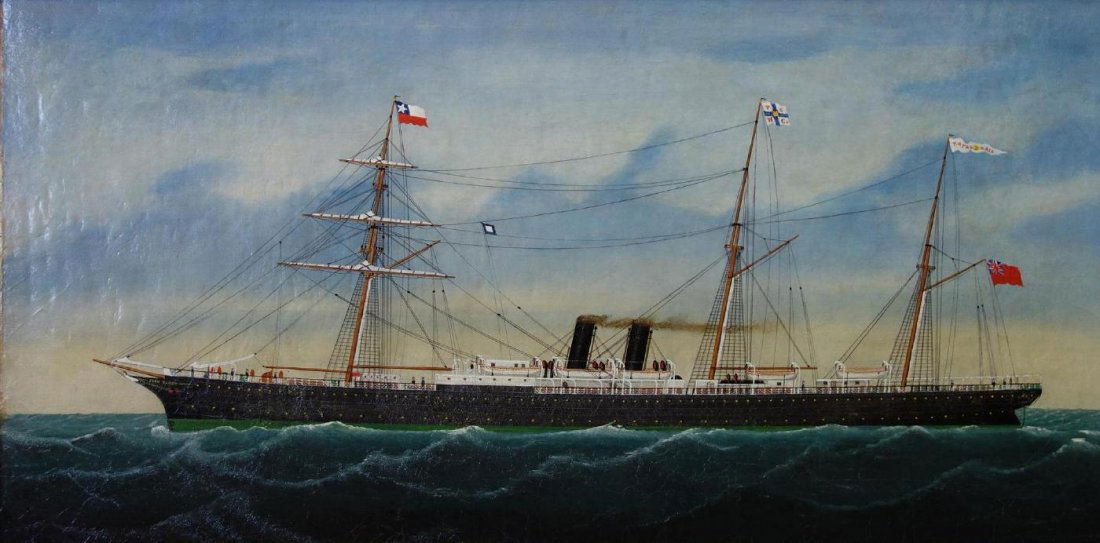 Royal Mail steamer R.M.S John Elder
Oil on canvas
The ship built by John Elder & Co Govan. Launched as the Sarmiento but renamed John Elder as a tribute to the man who had invented the compound engine. He died before she was completed. She stranded on Cape Carranza Rocks on a voyage from Valparaiso to Talcuhuanco with 139 passengers. No lives lost.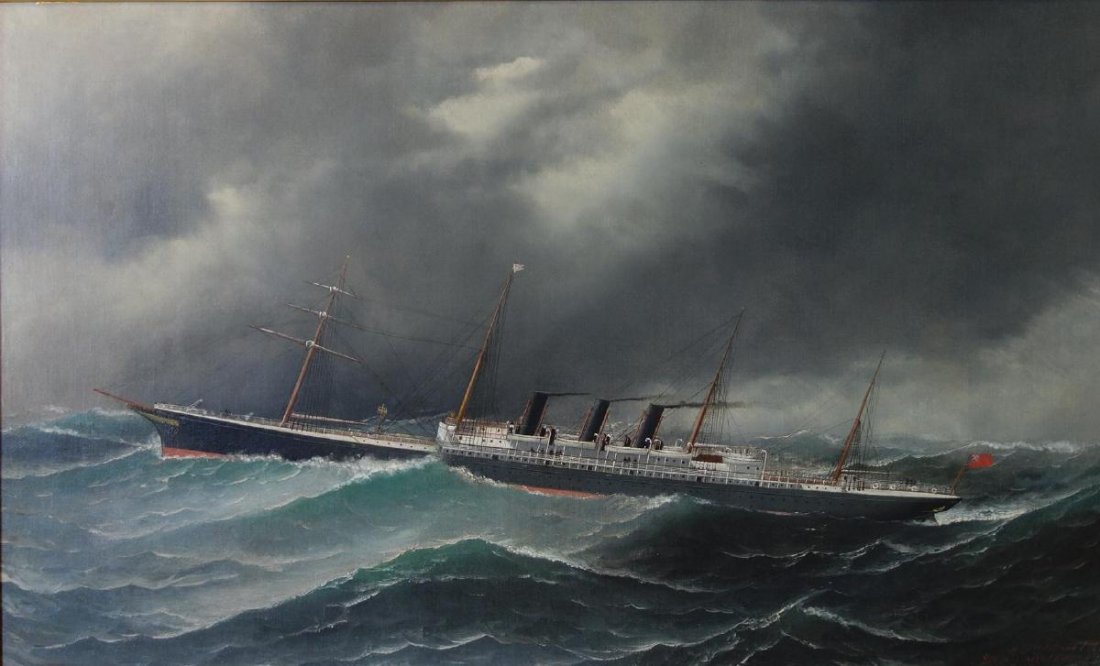 Antonio Jacobsen (1850-1921)
SS City of Rome, 1886
Commissioned 1881, The SS City of Rome was a UK ocean liner, built by Barrow Ship Building Co for Inman Line to be the largest and fastest liner on the North Atlantic route. SS City of Rome was widely regarded as the most beautiful liner to ever cross the Western Ocean.
Antonio Nicolo Gasparo Jacobsen (November 2, 1850 – February 2, 1921) was a Danish-born American maritime artist known as the "Audubon of Steam Vessels". He was born in Copenhagen, Denmark where he attended the Royal Academy of Design before heading across the Atlantic Ocean. He arrived in the United States in August 1873 and settled in West Hoboken, New Jersey (now Union City, New Jersey), across the Hudson River from Manhattan and New York Harbor; its port filled with ships from America and around the world.
Jacobsen got his start painting pictures of ships on safes, and as his reputation grew, he was asked to do portraits of ships by their owners, captains and crew members, with many of his works sold for five dollars. Jacobsen painted more than 6,000 portraits of sail and steam vessels, making him "the most prolific of marine artists". Many of his commissions came from sea captains. Jacobsen was chosen both for the accuracy of his work and his low fee. More
Antonio Jacobsen (1850-1921)
County of Edinburgh on the Beach, ca 1902
The Scottish barque was stranded on Point Pleasant Beach, 12th February 1900. The vessel was en route from Cape Town to New York when blown ashore by high winds in poor visibility. She was refloated 3 days later. The master was Mr. I. Webster. The vessel was eventually wrecked at South Rock, Ireland in 1917. More
Here the question is, who ordered this painted? Certainly not the master who would rather forget his serious error of seamanship, and the owners definitely would not wish potential customers to see a painting of one of their vessels in such danger.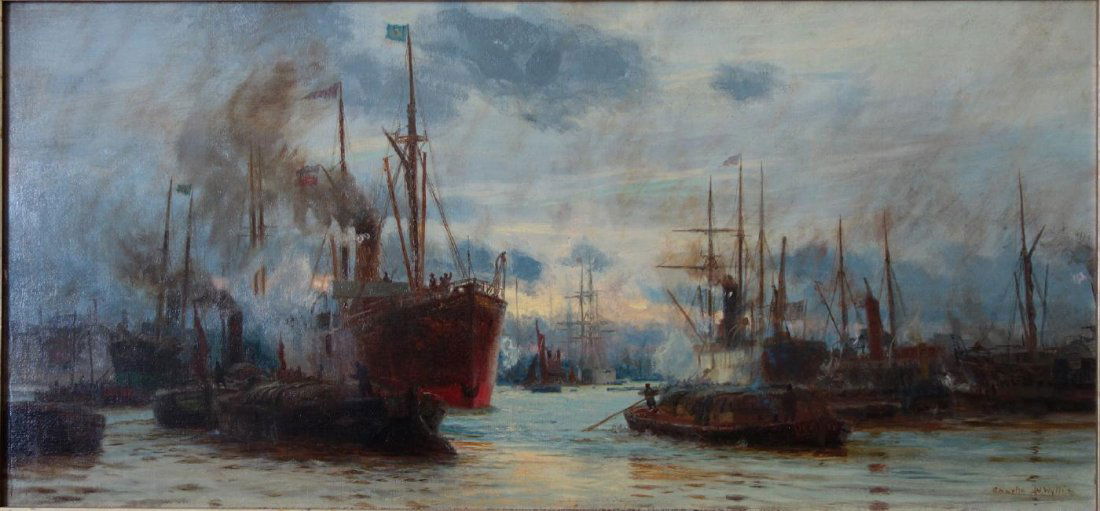 Charles W. Wyllie (1853-1923)
Pool of London
The Pool of London is a stretch of the River Thames from London Bridge to below Limehouse. Part of the Tideway of the Thames, the Pool was navigable by tall-masted vessels bringing coastal and later overseas goods—the wharves there were the original part of the Port of London. More
Charles W. WYLLIE 1853–1923 was a landscape and marine painter. Born 18 February 1853 in London. Studied at Leigh's School of Art and the R.A. Schools. Exhibited at the R.A. 1872–1920 and at the R.O.I. Took up decorative painting in his later years. Died in London 28 July 1923.
Dutch School
Dutch Gun Vessel In A Storm
Signature: Lower right monogram
Measurement: 8.25" x 16.5"
Small Dutch gun vessel (12-14 guns) breaking up in a storm. The masts have snapped and the small boat in the front right appears to be pulling away from the remains of the rigging in the water. The ship has managed to anchor near a coastal area but may be in danger of running aground: this is suggested by the presence the of the smaller boats heading towards the distressed vessel rather than away, going to the assistance of the crew. The vessel depicted appears typical of those in service 1780-1830. Slight cracking evident, corners opening
Antoine Ponchin
Sailing Ship
Antoine Ponchin (Marseille 29 October 1872 – 1933 or 1934) was a French painter, son of another painter, Joseph Ponchin. He won the Prix de l'Indochine in 1922. More
Donald Brett (1900-1949)
Ship at Sea I
Measurement: 13.75" x 19.5"