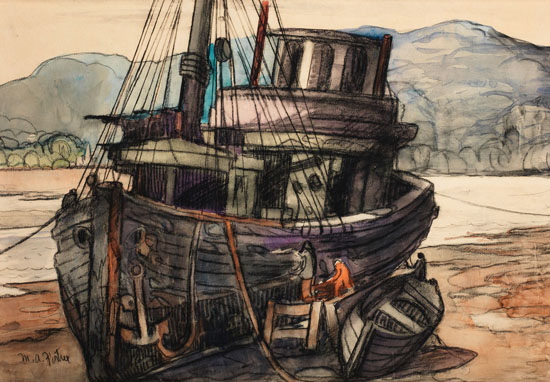 Marc-Aurèle Fortin, ARCA 1888 - 1970 Canadian
La Goélette
watercolour and charcoal on paper on card
18 1/4 x 26 1/2 in 46.3 x 67.3 cm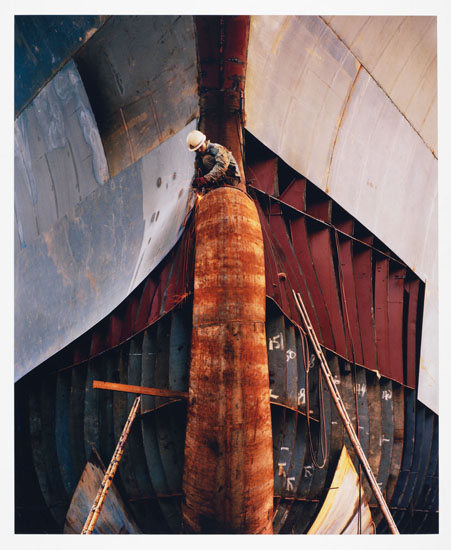 Edward Burtynsky, OC RCA 1955 - Canadian
Shipyard #18, Qili Port, Zhejiang Province, China
chromogenic colour print
22 x 18 in 55.9 x 45.7 cm
Stuart Davis, 1892 - 1964
HARBOR SCENE
26 by 38 inches, (66 by 96.5 cm)
Stuart Davis (December 7, 1892 – June 24, 1964), was an early American modernist painter. He was well known for his jazz-influenced, proto pop art paintings of the 1940s and 1950s, bold, brash, and colorful, as well as his ashcan pictures in the early years of the 20th century. More
Hayley Lever, 1876 - 1958
THE PRESIDENT'S YACHT "THE MAYFLOWER" WITH BATTLESHIPS IN NEW YORK HARBOR
25 by 30 1/4 inches, (63.5 by 76.9 cm)
Richard Hayley Lever (28 September 1875 – 6 December 1958) was an Australian-American painter, etcher, lecturer and art teacher. Lever was born in Bowden, South Australia, the son of Albion W. Lever. He excelled in painting classes at Prince Alfred College under James Ashton and on leaving school continued to study under Ashton at his Norwood art school. He was a charter member of the Adelaide Easel Club in 1892.
Lever's maternal grandfather died in 1882, and the subsequent inheritance was sufficient for Lever to finance a trip to England in 1899 to further his career in painting. He moved to St. Ives. The town's reputation as a centre for marine painting. He shared a studio with Frederick Waugh, and studied painting techniques under the Impressionists Olsson and Algernon Talmage. Lever also painted in the French port villages of Douarnenez and Concarneau, Brittany, directly across the English Channel from St. Ives.
In late 1904 Lever made a trip back to Adelaide, where he staged several exhibitions, painted seascapes and taught. In 1906, upon returning to Europe, he married Aida Smith Gale in St. Ives' Parish Church.
In 1911, Ernest Lawson, an Impressionist painter, persuaded Lever to move to America, saying he would have greater success there. From 1919 to 1931, Lever taught art classes at the Art Students League of New York. He offered this message to his students: "Art is the re-creation of mood in line, form and color. If I were confined to my own back yard for the rest of my life, I'd still have more pictures in my mind than I would have time to paint. Art is nothing but having a good time." Lever went to Pittsburgh in 1922 as an art juror for the Carnegie International exhibition.
In 1924, Lever was commissioned to paint a portrait of the presidential yacht, Mayflower, which was subsequently presented to President Calvin Coolidge in the Cabinet Room of the White House. By 1930, Lever had moved to Caldwell, New Jersey, staying there until 1938, when he moved to Mount Vernon, New York. While living in New York, Lever painted marines and landscapes in New Jersey, Vermont, New England, New York and the Canadian Maritimes. Throughout his life, he traveled and painted extensively, including Nova Scotia and Grand Manan Island in Canada, the Bahamas and Florida, while often returning to Europe. In 1933, Hayley was named Director of the Green Mountains summer art school at Smugglers Notch, Stowe Vermont. Lever also taught painting classes at the Forum School of Art in Bronxville, New York from 1934 to 1935. More
Dean Cornwell, 1892 - 1960
STUDY OF PIRATES
Dean Cornwell (March 5, 1892 - December 4, 1960) was an American illustrator and muralist. His oil paintings were frequently featured in popular magazines and books as literary illustrations, advertisements, and posters promoting the war effort. Throughout the first half of the 20th century he was a dominant presence in American illustration. At the peak of his popularity he was nicknamed the "Dean of Illustrators". More
T. Lux Feininger, 1910-2011
DIE LOTSENKUTTER, c. 1933
13 by 18 1/4 inches, (33 by 46.4 cm)
T. Lux Feininger (June 11, 1910 Berlin — July 7, 2011 Cambridge) was an American painter, avant-garde photographer, author, and art teacher who was born in Berlin to Julia Berg and Lyonel Charles Feininger, an American living in Germany from the age of sixteen. His father was the first faculty appointment made to the Bauhaus in Weimar by its founder, Walter Gropius, in 1919. He had two older full brothers, including Andreas Feininger, and two half sisters, even older, by Clara Fürst and his father (from his first marriage). More
Eric Sloane, 1910 - 1985
AHEAD OF THE SQUALL
36 by 48 inches, (91.4 by 121.8 cm)
Eric Sloane (born Everard Jean Hinrichs) (27 February 1905 – 5 March 1985) was an American landscape painter, born in New York City, and author of illustrated works of cultural history and folklore. He is considered a member of the Hudson River School of painting.
As a child, he was a neighbor of noted sign painter and type designer Frederick W. Goudy. Sloane studied art and lettering with Goudy. While he attended the Art Students League of New York City, he changed his name because George Luks and John French Sloan suggested that young students should paint under an assumed name so that early inferior works would not be attached to them.
In the summer of 1925, Sloane ran away from home, working his way across the country as a sign painter, creating advertisements for everything from Red Man Tobacco to Bull Durham. Unique hand calligraphy and lettering became a characteristic of his illustrated books. Sloane eventually returned to New York and settled in the Merryall area of New Milford, Connecticut, where he began painting rustic landscapes in the tradition of the Hudson River School.
In the 1950s, he began spending part of the year in Taos, New Mexico, where he painted western landscapes and particularly luminous depictions of the desert sky.
In his career as a painter, he produced over 15,000 works. His fascination with the sky and weather led to commissions to paint works for the U.S.
Air Force and the production of a number of illustrated works on meteorology and weather forecasting. More
Charles Dorman Robinson, 1847 - 1933
"THE WASP" AND "THE SERAPIS" IN BOSTON HARBOR AT NIGHT
48 by 72 inches, (121.9 by 182.9 cm)
Charles Dorman Robinson (alternate: Charles Dormon Robinson; nickname: C.D.) (July 17, 1847 - May 8, 1933) was an American panorama, cyclorama, landscape, and marine painter. He is known for his seascapes and landscapes of Northern California, including over a hundred paintings of Yosemite Valley. He was known as "the dean of Pacific Coast artists". More
Jane Peterson, 1876 - 1965
FISHING BOAT AT A MOORING
24 by 30 inches, (61 by 76.2 cm)
Jane Peterson (1876–1965) was an American Impressionist and Expressionist painter. Her works are created in Impressionist and Expressionist styles using broad swaths of vibrant colors to combine an interest in light and in depiction of spontaneous moments and are well known for vivid, rich painted still life, beach scenes along the Massachusetts coast. More
Walter Farndon, 1876 - 1964
NEW ENGLAND HARBOR
14 by 18 inches, (35.6 by 45.7 cm)
Walter Farndon, 1876-1964, was a New England plein-air painter best-known for impasto, Impressionist, sometimes near-Expressionist harbor and shore scenes, though he also painted portraits and figures. Born in Coventry, England, Farndon came to the United States, studying at the National Academy of Design, where he was later elected an Associate in 1928, and an Academician in 1937. He also studied with Robert Henri, and was a member of the Society of Independent Artists. He painted in Ridgefield, New Jersey in the 1920s.

Walter Farndon, (American, 1876-1964)
Harbor
signed 'Walter Farndon' (lower left)
Walter Farndon (American, 1876-1964), see above
Hayley Lever, 1876 - 1958
ST. IVES HARBOR
6 1/4 by 9 3/8 inches, (15.9 by 23.8 cm)
Hayley Lever, 1876 - 1958, see above
T. Lux Feininger, 1910-2011
SHIPS IN THE BALTIC
Watercolor and charcoal on paper
11 by 18 1/2 inches (28 by 47 cm)
T. Lux Feininger, 1910-2011, see below
Antonio Jacobsen,
1850-1921
BELMONT
20 by 35 3/4 inches,
(50.8 by 90.8 cm)
Antonio Nicolo Gasparo Jacobsen (November 2, 1850 – February 2, 1921) was a Danish-born American maritime artist known as the "Audubon of Steam Vessels". He was born in Copenhagen, Denmark where he attended the Royal Academy of Design before heading across the Atlantic Ocean. He arrived in the United States in August 1873 and settled in West Hoboken, New Jersey (now Union City, New Jersey), across the Hudson River from Manhattan and New York Harbor. Jacobsen got his start painting pictures of ships on safes, and as his reputation grew, he was asked to do portraits of ships by their owners, captains and crew members, with many of his works sold for five dollars.
Jacobsen painted more than 6,000 portraits of sail and steam vessels, making him "the most prolific of marine artists". Many of his commissions came from sea captains, and Jacobsen was chosen both for the accuracy of his work and his low fee. More
Antonio Jacobsen, 1850-1921
THE APACHE
30 by 50 inches, (76.2 by 127 cm)
Antonio Jacobsen, 1850-1921, see above
Paul Signac, 1863 - 1935
SAINT-TROPEZ. LA JETÉE ET LE PHARE, c. 1930
Watercolor, gouache and charcoal on paper laid down on card
10 7/8 by 17 1/8 in., 27.5 by 43.6 cm
Paul Signac, (born Nov. 11, 1863, Paris, France—died Aug. 15, 1935, Paris) French painter who, with Georges Seurat, developed the technique called pointillism.
When he was 18, Signac gave up the study of architecture for painting and, through Armand Guillaumin, became a convert to the colouristic principles of Impressionism. In 1884 Signac helped found the Salon des Indépendants. There he met Seurat, whom he initiated into the broken-colour technique of Impressionism. The two went on to develop the method they called pointillism, which became the basis of Neo-Impressionism. They continued to apply pigment in minute dabs of pure colour, as had the Impressionists, but they adopted an exact, almost scientific system of applying the dots, instead of the somewhat intuitive application of the earlier masters. In watercolours Signac used the principle in a much freer manner. After 1886 he took part regularly in the annual Salon des Indépendants, to which he sent landscapes, seascapes, and decorative panels. Being a sailor, Signac traveled widely along the European coast, painting the landscapes he encountered. In his later years he painted scenes of Paris, Viviers, and other French cities.
Signac produced much critical writing and was the author of From Eugène Delacroix to Neo-Impressionism (1899) and Jongkind (1927). The former book is an exposition of pointillism, while the latter is an insightful treatise on watercolour painting. More
Harbour Scene with Figures
12 X 20 in (30.48 X 50.8 cm)
Signed
Thomas Bush Hardy
Portsmouth Harbour, c. 1893
15.25 X 38.5 in (38.74 X 97.79 cm)
Watercolor on paper
ROUGH SEAS, DOVER HARBOR
21 X 41 in (53.34 X 104.14 cm)
Images are copyright of their respective owners, assignees or others