Symbolism (c.1886-1900), a late 19th-century movement of Post-Impressionist painting, flourished throughout Europe between 1886 and 1900 in almost every area of the arts. Initially emerging in literature, including poetry, philosophy and theatre, it then spread to music and the visual arts. Symbolist art had strong connections with the Pre-Raphaelites and Romanticism, as well as the Aestheticism movement. Like all these movements, Symbolism was in large part a reaction against naturalism and realism, and became closely associated with mythological painting of all kinds. Symbolists sought a deeper reality from within their imagination, their dreams, and their unconscious. More
Franz von Stuck
Wild Chase, circa 1889
Height: 53 cm (20.87 in.), Width: 84 cm (33.07 in.)
Städtische Galerie im Lenbachhaus - Munich (Germany)
One of Franz von Stuck's best-known paintings The Wild Chase depicts Wotan (Odin, the Allfather of the gods) on horseback leading a procession of the dead. It was completed about 1889, the year of Hitler's birth, and it has acquired a kind of semi-legendary status as the face of Wotan in the painting greatly resembles Hitler's. It's said Adolf Hitler saw this painting at thirteen and he was fascinated by Wotan, and later had this painting taken from the museum and placed in a special gallery. More
Franz Stuck (February 23, 1863 – August 30, 1928), ennobled as Franz von Stuck in 1906,
was a German painter, sculptor, engraver, and architect. Born at Tettenweis near Passau, Stuck displayed an affinity for drawing and caricature from an early age. To begin his artistic education he relocated in 1878 to Munich, where he would settle for life. From 1881 to 1885 Stuck attended the Munich Academy.
Franz von Stuck
Fighting For A Woman/The Struggle for Woman, c. 1905
Hermitage Museum, St Petersburg, Russia
Influenced by the texts of Sigmund Freud, Stuck often depicted woman as dangerous, independent and predatory. This is probably most obvious in his depictions of the sphinx. While the men's attentions are is solely focused on impressing the woman, her gaze is enigmatically outward towards the viewer. Her posture evokes great pride in being the subject of a dispute.
More
Franz von Stuck
Fighting For A Woman/The Struggle for Woman, c. 1927
71 cm (27.95 in.), Width: 73 cm (28.74 in.)
He first became well known by cartoons for Fliegende Blätter, and vignette designs for programmes and book decoration. In 1889 he exhibited his first paintings at the Munich Glass Palace, winning a gold medal for The Guardian of Paradise.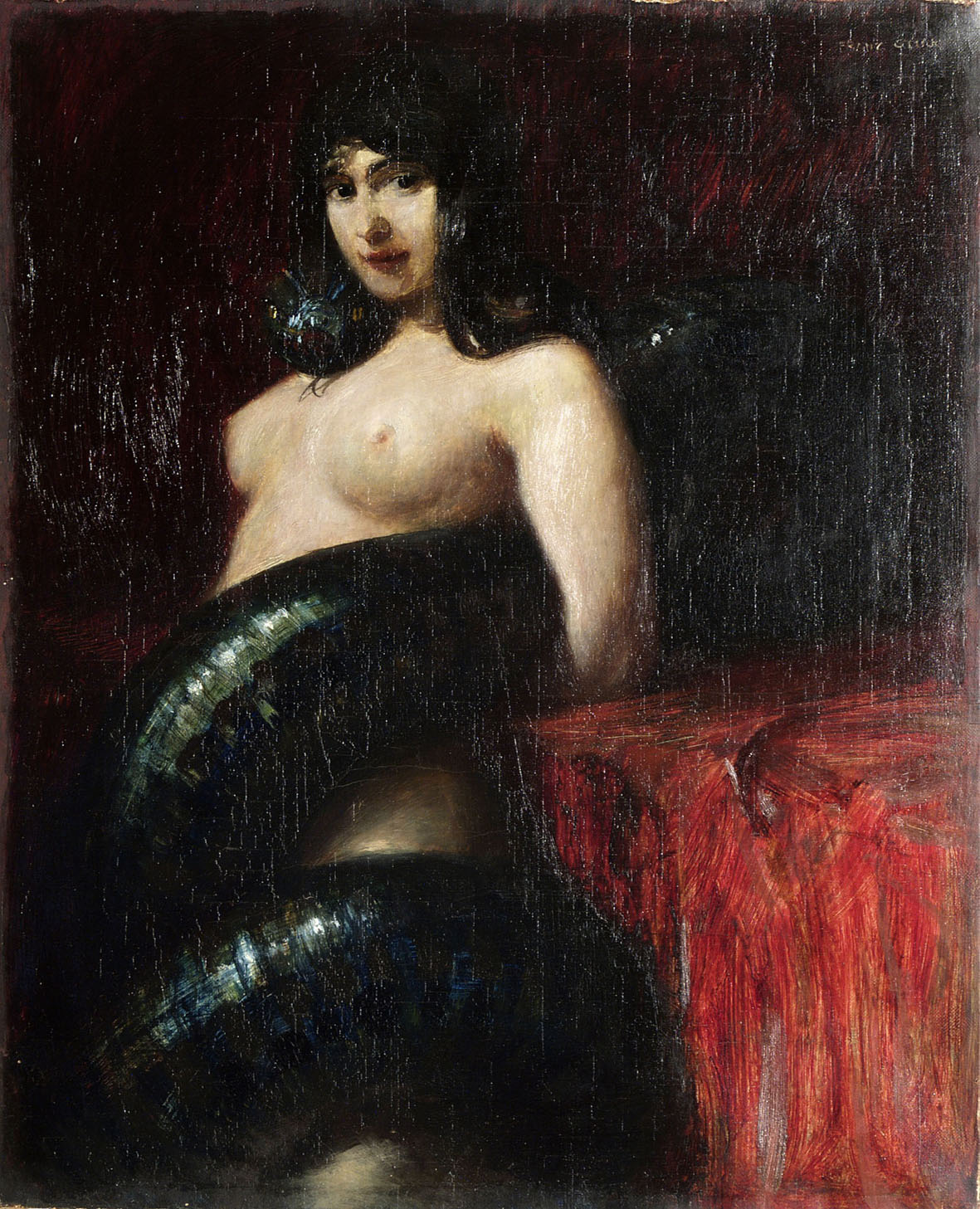 Franz von Stuck
The Sin
Neue Pinakothek (Munich / Germany )
Hitler bought many of Stuck's paintings including the iconic The Sin, which he hung in his apartment in Munich until it was seized after WWII.
Like the Sphinx (Below), the female nude has her face obscured by shadow, and the eye is drawn to her breasts. The vast serpent twined around her body is reminiscent of Eve and the fall from Eden. It is at once compelling and disturbing. More
Franz von Stuck, (1863-1928)
Sensuality, 1891
The image is not Von Stuck's, but the Bible's; The serpent is phallic, but represents knowledge- which is separation from God or 'self' consciousness. It is Eve who covets the serpent and throughout hundreds of years of Christian culture 'woman' and 'corruption' really were synonymous- right from the vitriolic hysterics of the church fathers. But Von Stuck's women are threatening, sensually unrepentant and complicit. Esoterically the 'sin' is not sexual in nature but occult, the serpent corresponding to Lumiel or Baphomet and Eve corresponding to the initial baptism of wisdom. More
Franz von Stuck - 1913
DIE SÜNDE (THE SIN)
35 1/2 by 21 in., 90.2 by 53.3
Now widely considered to be an icon of the Symbolist art movement, Franz Stuck's Die Sünde (The Sin) drew large crowds even when it was first exhibited at the premiere exhibition of the Munich Secession in 1893, an association of artists which Stuck had co-founded a year before. First conceived in 1889 as Die Sinnlichkeit (Sensuality) (private collection), subsequent versions show subtle variations and evolve into the current composition, Stuck's grand meditation on sin. Including the present work, twelve versions of the painting are now known, a testament to the image's fame and notoriety, and many of these are in public collections such as the Neue Pinakothek in Munich, the Nationalgalerie in Berlin, the Galleria di arte Moderna in Palermo, the Frye Museum in Seattle, and another remains enshrined as an icon in his Künstleraltar in the artist's studio at the Villa Stuck in Munich, an elaborate home entirely of his design; his Gesamtkunstwerk, or total work of art. More
Franz von Stuck, (1863-1928)
The Sin, c. 1893
94.5 × 59.5 cm (37.2 × 23.4 in)
Neue Pinakothek,
Munich, Germany
In 1892 Stuck co-founded the Munich Secession, and also executed his first sculpture, Athlete. The next year he won further acclaim with the critical and public success of what is now his most famous work, the painting The Sin. Also during 1893, Stuck was awarded a gold medal for painting at the World's Columbian Exposition in Chicago, and was appointed to a royal professorship. In 1895 he began teaching painting at the Munich Academy.
Franz von Stuck
The Sensuality, c. 1898
National Gallery of Canada
In 1897 Stuck married an American widow, Mary Lindpainter, and began work designing his own residence and studio, the Villa Stuck. His designs for the villa included everything from layout to interior decorations; for his furniture Stuck received another gold medal at the 1900 Paris World Exposition.
Franz von Stuck, 1863 - 1928
THE DRAGON SLAYER
135 by 126cm., 53¼ by 49½in
The Dragon Slayer is a particularly charged rendition of an age-old theme. Although most of Stuck's paintings depict scenes from the Antique or the Bible, neither the title The Dragon Slayer nor the iconography reveal the exact story behind the present work. Stuck's fascination with Greek legends suggests the subject to be Perseus and Andromeda, although Medusa's head and Perseus's winged shoes are missing. As early as 1900 Stuck's contemporary, Lovis Corinth (lots 3, 4 & 5), had painted the hero as a medieval knight rather than a Greek half-god, and his Perseus and Andromeda may have been a possible source of inspiration for the present work. Another obvious influence would have been the biblical story of St. George, who kills the dragon to save a virgin. More
Franz von Stuck, (1863-1928)
Sphinx, c. 1904
Hessisches Landesmuseum, Darmstadt, Germany
In ancient times, the Sphinx was depicted with a lion's body and wings: only the head was human. Over the years, artists have depicted the Sphinx as a woman. This sexualisation probably reached its peak at the time of the Symbolist Gustave Moreau who made the Sphinx as a young princess with a tiara and jewelry and gave it an aura purity. Franz Von Stuck's Sphinx became full woman, carrying her head high, and proud of his nature. More
Franz von Stuck
The Kiss of the Sphinx, c. 1895
In The Kiss of the Sphinx, the Sphinx is a woman who fully enjoys her sexuality, she is no longer hybrid monster, but seductress. Franz Von Stuck does not paint a fragile woman and a victim of his flesh, instead, by a dark romanticism, he painted the a woman who delights in her wickedness. Her proud posture dominate the men that come to meet her, exhibiting her chest as captious bait. More
Franz von Stuck
The Kiss of the Sphinx, c. 1905
160 cm (62.99 in.), Width: 144.8 cm (57.01 in.)
Museum of Fine Arts - Budapest (Hungary)
It is difficult to tell whether the Sphinx is kissing or devouring her male victim. His vulnerability and surrender, and her sexual aggression, are a marked reversal of traditional gender roles at the time, yet also display a fear of female sexuality. More
Franz von Stuck (1863–1928)
Kiss of a Sphinx
Hermitage Museum - St-Petersburg (Russia)
Having attained much fame by this time, Stuck was ennobled on December 9, 1905 and would receive further public honours from around Europe during the remainder of his life. He continued to be well respected among young artists as professor at the Munich Academy, even after his artistic styles became unfashionable. Notable students of his over the years include Paul Klee, Hans Purrmann, Wassily Kandinsky, Alf Bayrle and Josef Albers.
Franz von Stuck, (1863-1928)
The Murderer, c. 1891
Inspired by Arnold Bocklin's painting, Murderer pursued by Furies, but with an even greater sense of excitement and drama, in 1891 Stuck painted his first version of the despair and remorse which pursue a criminal after his deed. The ancient Furies, the goddesses of vengeance, hide behind a rock as they lie in wait for the murderer who has just killed his victim. The sight of these ugly creatures is a foretaste of the torments awaiting the murderer. The figure of the murderer is derived from Klinger's etching 'Pursuit' in which a man in a similar pose runs away on a narrow path. More




Franz von Stuck died on August 30, 1928 in Munich; his funeral address memorialized him as "the last prince of art of Munich's great days". He is buried in the Munich Waldfriedhof next to his wife Mary.
Images are copyright of their respective owners, assignees or others