Léon François Comerre (French 1850-1916)
An oriental beauty holding a pink fan
signed 'Léon Comerre' (upper left)
46 3/4 x 30 1/2in (119 x 77.5cm)
Léon François Comerre.

Born on October 10, 1850, Comerre grew up in the city of Lille, where he began his formal art training at an early age. In 1868 he moved to Paris and enrolled in the studio of Alexandre Cabanel, who introduced him to exotic orientalist subjects and voluptuous nudes. He quickly distinguished himself as a talented painter and was recognized as a most promising student, thus gaining access to the prestigious
Ecole des Beaux-Arts
.
Comerre started exhibiting at the Paris
Salon
in 1871 and won the coveted
Prix-de-Rome
in 1875. That year marked a turning point in his career, with another gold medal awarded to him by the city of Lille and an additional medal from the
Salon
for a second painting. The official recognition brought financial rewards for the young painter, and his skills as society portraitist were in high demand.
By the end of 1875, Comerre embarked on a tour of the Lowlands and a four year sojourn in Rome. Upon his return from Rome, Comerre continued to have a successful career, with mural commissions from the city of Paris and Lyon, and an expansion of his client base into the United States. He also exhibited at the Royal Academy, the Royal Society of Portrait Painters, and the Glasgow Institute of the Fine Arts. He became a Knight of the Legion of Honour in 1903.
Like many of his fellow painters, Comerre catered to the Orientalist taste of his contemporaries that was fueled by an all-encompassing European infatuation with the Near East. Although he never traveled beyond Europe, Comerre made use of the most common attributes of Orientalist paintings, such as intricate tile motifs and ornate silver jewelry, which he successfully incorporated into his portrait commissions.
While the sitter of the present painting is unknown, unlike Commere's commissioned portrait paintings, the model, her dress and the tiled wall are motifs employed in a few other of the artist's orientalist-themed paintings. His mastery of the craft is clearly apparent in the delicate treatment of the fan and the intricate wall carvings, as well as the subtle, varied hues of pink that dominate the composition.
Stanislaus von Chlebowski (Polish, 1835-1884)
The prayer
signed and dated 'A. Chlebowski 1879' (lower right)
oil on panel
17 3/4 x 11 1/2in (45 x 29.5cm)
Stanisław Chlebowski (1835–1884) was a Polish painter with Russian and Turkish connections. He was a renowned specialist in Oriental themes. He was born in Podole, and learned drawing in Grekov Odessa Art school. Between 1853-1859, he studied at the Academy of Fine Arts in St. Petersburg, and then on a scholarship for six years in Paris as the pupil of the French Orientalist painter Jean-Léon Gérôme. Chlebowski traveled to Spain, Italy, Germany, and Belgium. His first success was selling his painting Joanne d'Arc in Amiens Prison to Napoleon III of France.
In the years 1864-1876 Chlebowski was master painter for Sultan Abdülaziz and took up residence in Constantinople. During his services, he had obtained permission to bring with him a large icon of Mother of God Leading Our Way having been rescued from the Hodegon Monastery in 1453. He had come across it in one of the magasins with old relics, unheeded by the Ottoman keeper. This account is certified in a letter by the Comité National Polonais à Constantinople, dated June 27, 1938.
In 1876 he moved to Paris. In 1881 he returned permanently to Krakow. The subject matter of his watercolors and oil paintings is diverse. He painted images of historical battles related to the history of Turkey, oriental genre scenes, landscapes, and portraits of sultans. He died near Poznań, in Kowanówko at age 49.
Chlebowski lived abroad for a long time and as a result his paintings were very rare in Poland. The National Museum in Krakow houses some of his other important Orientalist works such as Entrée de Mahomet II à Stamboul. More
Jean-Léon Gérôme
1824 - 1904
signed J. L. GEROME (lower right)
Jean-Léon Gérôme (11 May 1824 – 10 January 1904) was a French painter and sculptor in the style now known as Academicism. The range of his oeuvre included historical painting, Greek mythology, Orientalism, portraits and other subjects, bringing the Academic painting tradition to an artistic climax. He is considered one of the most important painters from this academic period, and in addition to being a painter, he was also a teacher with a long list of students. More
Henri Emilien Rousseau (French, 1875-1933)
A caravan at rest
signed 'Henri Rousseau' and illegibly dated (lower right)
18 1/8 x 21 5/8in (46 x 55cm)
Henri Rousseau Henry said Emilien Rousseau (Cairo 1875 - Aix-en-Provence in 1933) was an orientalist painter. A student of Jean-Léon Gérôme at the Beaux-Arts in Paris, he won the second Grand Prix de Rome in 1900 and a travel grant at the Salon of French Artists. He travels the Belgium , the Netherlands , the North Africa , then to Spain and Italy where he admired the great masters ( Rubens , Rembrandt , Velasquez , Murillo , the Titian , Raphael etc ...)
After this initiatory journey, he settled in Versailles and set up his studio at the Villa des Arts in Paris. In 1919 he moved to Aix en Provence with his large family (seven children). For a Chevalier of the Legion of Honour on the arts, it was a notable of the area. He mainly travelled to Tunisia , the Algeria and especially Morocco. Provence and the Camargue remained his anchors. His success with the middle-class and wealthy clientele is punctuated with numerous exhibitions in Paris, Brussels , Stockholm , Marseille .
More
Fabio Fabbi (Italian, 1861-1946)
The new slave girl
signed 'F. Fabbi' (lower left)
oil on canvas
38 3/4 x 29in (98.5 x 73.5cm)
Fabio Fabbi was born in Bologna, Italy in 1861. As a young man, he enrolled at the Accademia Di Belle Arti in Florence and studied sculpture and painting in the 1880s, winning prizes in both categories. After his studies, he travelled to Paris, Munich, and finally Egypt. Upon his return to Italy, he dedicated himself solely to painting and was honoured with the distinction of professorship at the Accademia.
Fabbi painted prolifically images of odalisques and bazaars which were well-received by the public. His images were commercial for his day, and thus he succeeded in painting more works than many of his contemporaries in Italy. From 1884 onward, Fabbi regularly participated in exhibitions in Turin, Milan and Florence, gaining popularity and laud mostly because his works were colourful and amusing. Although the subject matter was not novel to his audience at this point in time, his impressionist technique and the movement of his figures were quite appealing, as in the present lot. More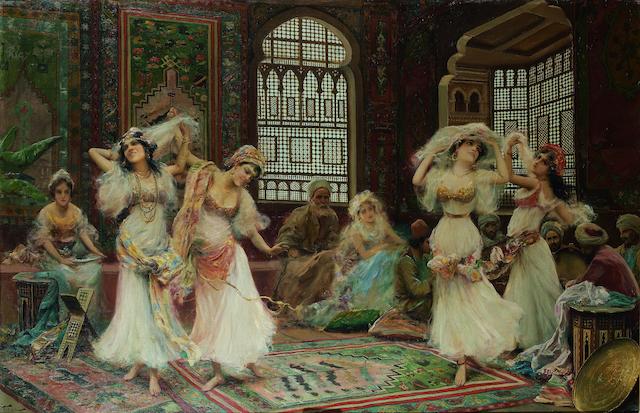 Fabio Fabbi (Italian, 1861-1946)
Dancers in the harem
signed 'F. Fabbi' (lower left)
oil on canvas
90 x 140cm (35 7/16 x 55 1/8in)
Dancers in the Harem
, a work most likely inspired by a visit to Cairo, shows the Fabbi's versatility and skill. The backdrop of the room, the carpets and windows are clearly painted with clean lines, articulated and realistic. The dancers, however, are painted with visible brushstrokes, giving the impression that they are moving and dancing to the music. Fabbi's unique ability to mix the two techniques makes the work both interesting and believable.
The present scene depicts one of Fabbi's favourite themes:
Raks Baladi
, the popular folk dance of Egypt which is believed to have mothered all Oriental dance. During his trip to Egypt in 1886, Fabbi would have witnessed the skilful women performing
Raks Baladi
as it was enjoyed at festivals, in the home, and in the living quarters for casual entertainment. The depiction of the dancers is true to what Fabbi would have seen in Cairo. The women don long, simple robes indigenous to Egypt with some ornamentation around the bust and scarves accentuating the hips. This costume differed greatly from region to region in the Middle East, verifying Fabbi's interaction with the Egyptians.
Fabbio Fabbi (1861-1946)
Slave Auction
Oil On Canvas
40.6 x 70.5 cm, (15.98" x 27.76")
Adolf Schreyer, 1828-1899
GERMAN
THE ADVANCE
signed AD Schreyer
oil on canvas
41 1/2 by 68 in.
105.4 by 173 cm
Adolf Schreyer (July 9, 1828 Frankfurt-am-Main – July 29, 1899 Kronberg im Taunus) was a German painter, associated with the Düsseldorf school of painting. He studied art first at the Städel Institute in his native town, and then at Stuttgart and Munich. He painted many of his favourite subjects in his travels in the East. He first accompanied Maximilian Karl, 6th Prince of Thurn and Taxis through Hungary, Wallachia, Russia and Turkey; then, in 1854, he followed the Austrian army across the Wallachian frontier. In 1856 he went to Egypt and Syria, and in 1861 to Algiers. In 1862 he settled in Paris, but returned to Germany in 1870; and settled at Cronberg near Frankfurt, where he died.
Schreyer was, and is still, especially esteemed as a painter of horses, of peasant life in Wallachia and Moldavia, and of battle incidents. His work is remarkable for its excellent equine draughtsmanship, and for the artist's power of observation and forceful statement; and has found particular favour among French and American collectors. Of his battle-pictures there are two at the Schwerin Gallery, and others in the collection of Count Mensdorff-Pouilly and in the Raven Gallery, Berlin. His painting of a Charge of Artillery of Imperial Guard was formerly at the Luxembourg Museum. The Metropolitan Museum, New York owns three of Schreyer's oriental paintings: Abandoned, Arabs on the March and Arabs making a detour; and many of his best pictures are in the Rockefeller family, Vanderbilt family, John Jacob Astor, William Backhouse Astor, Sr., August Belmont, and William Walters collections. At the Kunsthalle in Hamburg is his Wallachian Transport Train, and at the Staedel Institute, Frankfort, are two of his Wallachian scenes. More
Edwin Lord Weeks, 1849 - 1903
AMERICAN
FIGURES IN AN INTERIOR WITH GARDEN OF PALMS BEYOND
signed E.L. Weeks (lower right)
oil on canvas
32 by 39 1/2 in.
81.3 by 100.3 cm
After years of travel through Europe, North Africa, the Middle East and India, the American artist Edwin Lord Weeks remained captivated by the sights he encountered abroad and towards the end of his career he began an ambitious series of paintings based on A Thousand and One Nights. From this series, he exhibited Man Waking from Sleep in 1898 and L'histoire de Noureddin et la belle Persane a year later at the Paris Salon of 1899. A series of four paintings of The Porter of Baghdad were sold in the artist's estate sale of 1905 (one of which was shown at the Paris Salon of 1901). Given the scale and subject, the present painting is almost certainly one from this series, although, like lot xx, it has remained undocumented until now.
In Figures in an Interior with Garden of Palms Beyond, Weeks presents an interesting combination of imagery. Weeks documented his travels through sketches, paintings and photographs, which provided source material for the present scene. Additionally, architectural elements reminiscent of Weeks' Indian paintings of the 1880s and 1890s now reappear as the background and decorative elements.
Two figures sit in a sheltered, sun-dappled courtyard overlooking a lush forest of swaying palms, Weeks is careful to render the architecture of the scene, complete with its delicately carved stone latticework, as well as the costumes of the two figures. The lounging girl is swathed in elaborately embroidered sheer red silks, reminiscent of the Nautch dancing girls which Weeks had painted in India
More
Edwin Lord Weeks
The Doctor's Visit (from A Thousand and One Night series) (1903)
Edwin Lord Weeks exhibited Man Waking from Sleep in 1898, at the Paris Exposition of that year, and L'histoire de Noureddin et la belle Persane, a year later at the Paris Salon of 1899. A series of four paintings of The Porter of Bagdad were sold in the artist's estate sale of 1905; Number 3 of that series was shown at the Paris Salon of 1901. The present painting, The Doctor's Visit, bears a label in Weeks' own hand, sending it to the Universal Exposition in St. Louis in 1904. Weeks, like most artists, sent only recent paintings to major exhibitions, thus enabling us to date The Doctor's Visit to circa 1903, the year of his untimely death.
The Doctor's Visit achieved the highest price among the "1001 Nights" paintings at the artist's estate sale of 1905. Curiously, The Doctor's Visit exploits an interesting combination of imagery, visually rooted in India and Persia to recount a story rooted in Arabic literature. In this work, Weeks has extracted architectural elements from his Indian paintings of the 1880s and 1890s and recombined them into a fantasy of form and pattern as a setting for the Doctor to visit his patient lying upon a marble plinth in the shadow of early morning sunshine. The setting overlooks the azure Lake of Udaipur, India; in the distance are the semi-arid purple hills surrounding the Lake and Palace of Udaipur. Weeks has fashioned an imagined portion of this famed island palace as the open-air lounging spot of bright white marble for his Princess, who lies upon the cushions for her back and the stone for her outstretched legs.
She rests, seductively, in airy white silk halter and gown, accented in gold, falling around her thighs and lower legs to form a mound of ripples in front of her. Her gold tiara and multi-stranded necklace frame her youthful face with wide, dark eyes, slight smile and long, raven hair: her features all tell of Persian ancestry, as do those of the Doctor. Yet the Doctor's costume of embroidered peach-colored silk, tight about the torso and flaring wide–almost to the floor–is purely Indian in style. The gorgeous shimmer of the material has a coarse, dark seam starting at the waist and ending just above the curious upturned toe of his shoes. In its backlit beauty, this fabulously-rendered robe appears royal in nature. The entire costume, from head to foot, begins a dialogue with the form and pattern of the slim, marble column to the left. Weeks has used both elements, figure and column lit in sunshine, to frame the space occupied by the lounging princess. The narrative of The Doctor's Visit is contained within these two beautifully-designed elements by this extremely skillful painter at the end of his career.
More
Edwin Lord Weeks
Moorish Girl Lying On A Couch, Rabat, Morocco
Oil on Board
Material: board
48.2 x 72.4 cm
Private Collection
Edwin Lord Weeks (American, 1849–1903)
Nautch girl resting , ca. 1895–1900
Oil on canvas
91.4 x 154 cm. (36 x 60.6 in.)
In North India, Nautch is one of several styles of popular dance, performed by girls known as Nautch girls.