Francis Sartorius
Strachan's action after Trafalgar
The Battle of Cape Ortegal was the final action of the Trafalgar Campaign, and was fought between a squadron of the Royal Navy and a remnant of the fleet that had been destroyed earlier at the Battle of Trafalgar. It took place on 4 November 1805 off Cape Ortegal, in north-west Spain and saw Captain Sir Richard Strachan defeat and capture a French squadron under Rear-Admiral Pierre Dumanoir le Pelley. It is sometimes known as Strachan's Action.
Strachan's action off Rochefort, 25 September 1806
S.r. Richard Strachan's Action with the French, off Rochefort. in which the four French Ships were taken.
Francis Sartorius the Younger, (1781 – London - after 1808),
was part of the dynasty of sporting painters of German origin. Francis exhibited marine paintings at the Royal Academy from 1799 to 1808. He may have died shortly after 1808, as no later dated paintings by him are known. Sartorius specialized in storm scenes, naval voyages and actions, particularly featuring the daring of the Royal Navy's frigates, for which there was enthusiastic demand in the years of the Napoleonic Wars. In the earlier stages of the war Napoleon's armies had swept almost unchallenged across Europe and the morale of Britain was kept alive by the successes of the Royal Navy. Those who took part in the actions commissioned paintings of them, while public demand was assuaged by popular prints.
Sartorius painted detailed, highly accurate views of naval actions which have an intense sense of drama. Seven of his works are in the National Maritime Museum, Greenwich. More
Clipper Ship Antigone, 1920's
This is a oil on canvas painting of the clipper ship Antigone, sister ship of the Isabel. It is masterfully painted and has many small details of the rigging and sails, T. Bailey is an infamous Massachusetts artist whose paintings of clipper ships and nautical themes were widely sold in galleries and furniture stores in New England during the early Twentieth Century. His infamy is because T. Bailey was a nom de pinceau for as many as seven different early 20th century Rockport, Massachusetts painters who painted primarily for the tourist trade. Among the artists who have been linked to the T. Bailey name are Max Berman, J.G. Cloudman, William Frederick Paskell (1866-1951), Vivian Forsythe Porter and L. Stears Thompson. This painting bears the signature "T. Bailey" twice, a clear signature painted above another one, which appears to have been painted over because it was too low (It's at the edge of the frame). The painting measures 31" x 23". More
Clipper Ship Antigone was a
fictional ship. More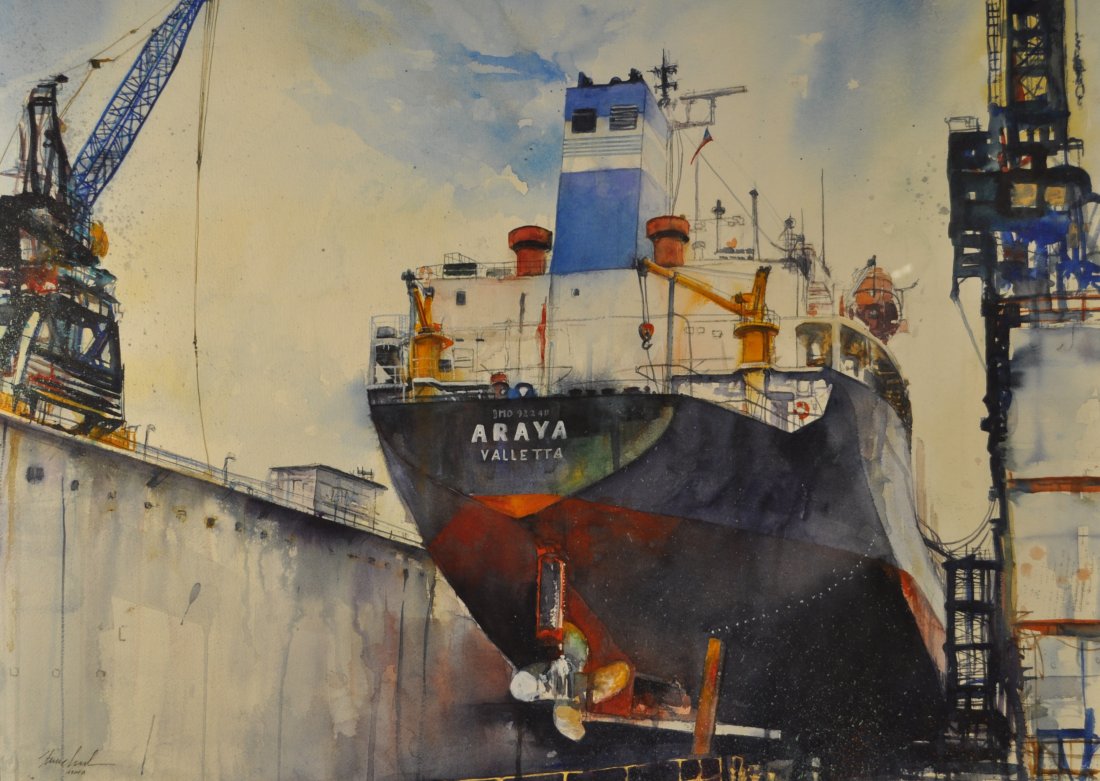 ARAYA IMO 9224843 is Bulk Carrier, registered in Malta.
Steven Lush.
It was the artistic family where he grew up that gave Steve his first inspirations. As young boy Steve was fascinated with the pen and ink drawings of Saul Steinberg as depicted in issues of the New Yorker magazine. He would create his own renderings and spent hours drawing and making up cartoon images with captions. Later, after graduating from the Merchant Marine Academy he discovered his love for traveling. He has traveled extensively throughout the world including India, the Mediterranean countries, Africa and the South Pacific.
The many countries, cultures and colors fueled his artistic vision. He started to paint in watercolor after discovering the work of Winslow Homer and John Singer Sargent. More
French harbor with a steam-and-wind powered ship, 1860
Historic view of a French harbor with a steam-and-wind powered ship, and passengers being ferried out to board it. The painting shows two French flags: one on the old light house, (That style tower preceded electric beacons.); one on the ship. The period clothing on the passengers is quite detailed, as is the ship and tower. The location is possibly in Normandy, where a similar light house (now electrified) and breakwater exist today. The painting is signed "Sautini" in the lower left corner. It dates from around 1860. More
Olive Russell
Tranquil harbor
This finely detailed oil painting signed Olive Russell captures the essence of a tranquil harbor on a beautiful Summer day. It seems to date from the 1970-1980's. It is painted on 16" x 12" . More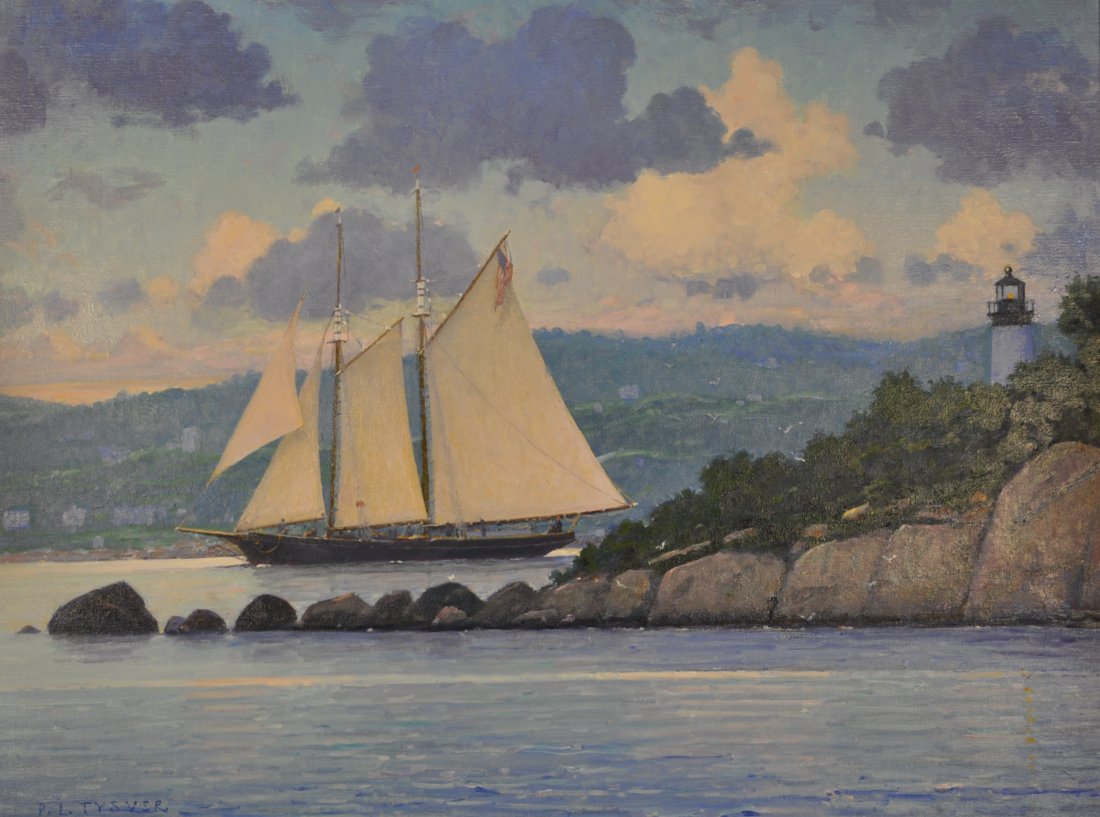 Peter Tysver
Schooner Passing Ten Pound Island
Ten Pound Island: Once a center of Coast Guard activity and known as "Base 7," there were seaplanes based on the island that were used for search and rescue operations. Most of the missions flown by the Coast Guard were actually in search of the notorious and elusive rumrunners during the days of Prohibition. At one time there was also a fish hatchery on the island. More
Peter Lauren Tysver was born in Gloucester, MA in 1946 into a family of Gillnet fishermen who had emigrated from Michigan. Tysver's love of the sea began as a teenager when he assisted on his father's boat, while his love of painting developed during summer evening visits to the studios of Rocky Neck artists. With money earned, assisting on his father's boat, he purchased his first set of oil paints at a neighborhood yard sale and a canvas board at the Yankee General Store. More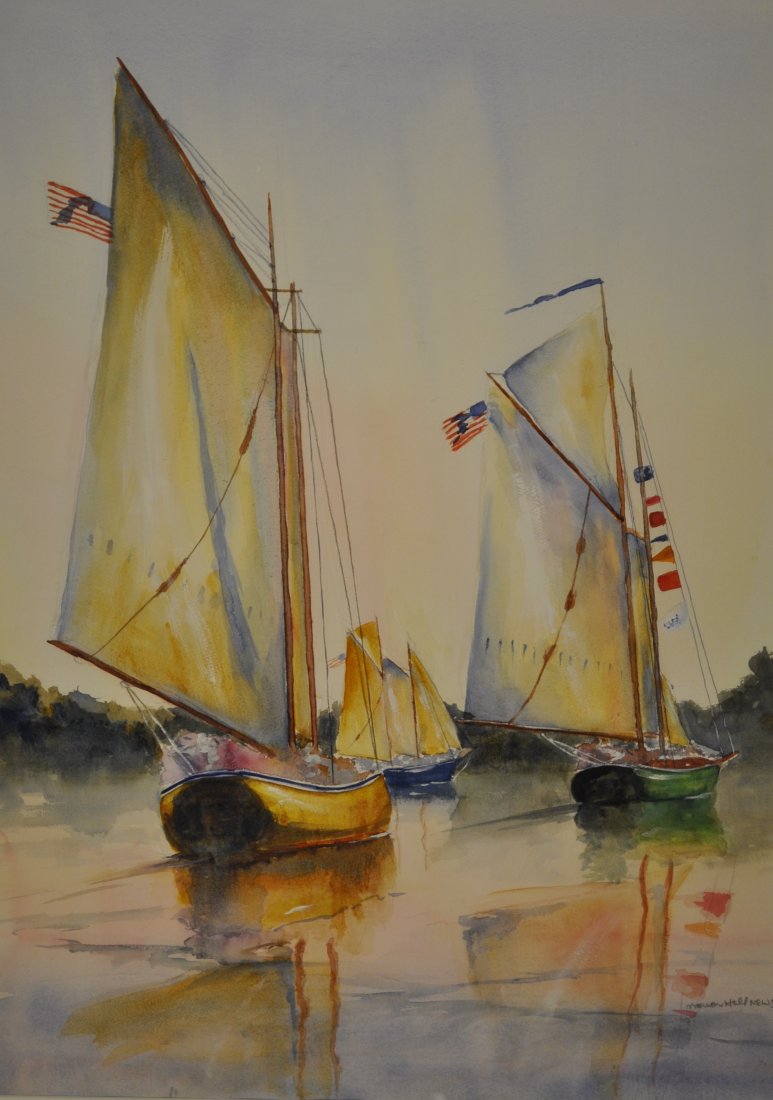 Marion Hall
Schooner Race 2014
Medium: Watercolor
Size: 29x21
Signed
Jean Marion Hall. Born in Memphis, TN on May 19, 1911. Jean Gates studied at the Cummings School of Art in Des Moines. At age 14 she moved to Los Angeles with her family. There she continued at the Chouinard Art School while working for Warner Bros, Walt Disney, and Mintz Studios. Upon moving to San Francisco, she married writer James D. Hall in 1938. Her illustrations were used in her husband's children's books. She established a studio in the "Monkey Block" (now the Transamerica Pyramid) and was active in the local art scene. She later earned her B.A. degree at San Jose State University (1955) and M.A. degree at UC Davis (1966). More

Deborah Geurtze
Entering The Harbor
Medium: Etching
Size: 16x28
Signed
Deborah Geurtze, of Hudson River Dutch ancestry was born in Albany, N.Y. and attended Rhode Island School of Design. She studied printmaking with Robert Bero at the State University College of Potsdam, N.Y.
After teaching abroad at the American school of Tangier, Morocco, and at Vail (Co.) Mountain School, she returned to upstate New York, and established her studio in an historic 1838 Greek revival "mansion", where she has worked for the past 25 years. More