James Bama
The Pawnee
Limited Edition Canvas Of: 125
James Bama Has Derived A Great Deal Of Joy From The Friendships He Has Developed With Many Of The Native American Subjects Of His Portraits. Years Ago, He Discovered That On A Personal Level, They Are Often Very Different From The Confrontational Image They Often Project. For Example, Wes Studi, A Full-blooded Cherokee, Established An Impressive Screen-acting Career With His Intense Portrayals Of A Pawnee War-party Leader In "dances With Wolves" And As The Vengeful Magua In "the Last Of The Mohicans," Yet Bama Found Him Genial And Obliging. During Their Visits To The Bama Home, Studi And His Children Often Spent Happy Hours Playing Basketball With The Artist And His Son. The Cultural Gap Was Bridged As Two Fathers Enjoyed Time With Their Children. More
James Elliott Bama (born April 28, 1926) is an American artist known for his realistic paintings and etchings of Western subjects. Life in Wyoming led to his comment, "Here an artist can trace the beginnings of Western history, see the first buildings, the oldest wagons, saddles and guns, and be up close to the remnants of Indian culture ... And you can stand surrounded by nature's wonders."
Born in Manhattan, he had his first professional sale when he was 15, a drawing of Yankee Stadium in the New York Journal-American. He graduated from New York's High School of Music and Art and entered the Army Air Corps, working as a mechanic, mural painter, and physical training instructor.
After the service, he studied drawing and anatomy at the Art Students League. Beginning in 1951, he was an illustrator at New York's Charles E. Cooper Studios for 15 years. Bama had a 22-year career as a successful commercial artist, producing paperback book covers, movie posters and illustrations
In 1967, Bama left New York and moved during September, 1968, into a cabin on a friend's ranch. Bama began to paint contemporary Western subjects during the daytime while doing his freelance illustrations in the evenings.
In May, 1971, Bama connected with a New York dealer, prompting his decision to abandon illustration and put his total concentration into the creation of easel paintings. More
Frank C. Mccarthy
Watching The Wagons
"Gathering Storm Clouds Symbolize The Approaching Conflict As Indians Worriedly Observe Settler Wagons Just Beyond Effective Rifle Range," Wrote Frank Mccarthy. "in The Beginning People Were Mostly Just Passing Through, But As Settlers Increasingly Dropped Off To Stay, It Was Clear That The Indians' Claim To The Land Was Threatened." A Massive Thunderstorm Gathering In The Background Adds Drama To This Painting And Symbolizes The Growing Storm Between Settler And Native American. A Group Of Sioux Watch As An Early Wagon Train Pushes West. The Native Americans Were Not Yet Ready To Fight For They Had Not Yet Lost Their Buffalo Or Vast Lands. But As The Influx Continued, These Events Would Come To Pass And The Gathering Storm Would Break And Unleash Its Fury On The Prairie. More
Frank McCarthy (born 30 March 1924 — 17 November 2002) was a prolific American artist and realist painter renowned for advertisements, magazine artwork, paperback covers, film posters, and paintings of the American West. Born in New York City, he at the Art Students League of New York then attended the Pratt Institute in Brooklyn.
McCarthy began his art career as a commercial illustrator, opening his own studio in 1948. He did illustrations for most of the paperback book publishers, magazines, movie companies, and advertisements.
Among McCarthy's film poster work were The Ten Commandments, The Great Escape, The Train, The Glory Guys, The Dirty Dozen, Dark of the Sun, On Her Majesty's Secret Service, Once Upon a Time in the West, and in conjunction with Robert McGinnis Thunderball and You Only Live Twice.
McCarthy left the commercial art world in 1968 in order to concentrate on Western paintings. In 1975 he was invited to join the Cowboy Artists of America. His painting, "Long Hard Ride" was used by The Marshall Tucker Band in 1976 for the cover of their fifth studio album by the same name. He was inducted into the Society of Illustrators Hall of Fame in 1997.
McCarthy died of lung cancer in 2002 at his home of 30 years in Sedona, Arizona. More
Z.S. Liang
Eagle Dancer Potawatomi
Limited Edition Canvas Of: 35
According To The legend Of The Eagle Of The Potawatomi Indian Tribe, In The Beginning, Life Was Lowered To The Earth From The Stars Like A Child Born Into The World. Awakening From The Dream World, The Stars Transformed Into The Beautiful Creatures And The Life Of The Physical Realms Of Land, Sky And Water. From The Brightest Of All Stars, A Pure White Eagle Was Created To Roam The Skies, Who Then Took Flight Back To The Heavens And Beyond The Stars, Searching For His Place In The World. Venturing Too Close To The Sun, The Great White Eagle Received Burns To The Tips Of His Feathers. Soaring Back To The Earth's Sky, The Great Eagle Remained In Between The Worlds Of Land, Water And The Heavens Above, Flying Closest To The Great Spirit Of Life And Possessing The Ability Of Leaving His Physical Body And Entering The Four Realms Of The Spirit World. More
Z. S. Liang was born in China,

in 1953,

and raised in a family of artists. He studied at the Central Academy of Fine Arts in Beijing and Guangzhou Academy of Fine Arts in Guangzhou. Liang furthered his art study in the United States in 1982. He earned his BFA in painting at Massachusetts College of Arts in 1986 and his MFA in Painting at Boston University in 1989.
Liang received his great inspiration while studying and painting the Wampanoag Indian culture at the outdoor Museum in Plymouth, Massachusetts. This newfound interest fired his imagination, and he began to focus his painting primarily on Native American Indian cultures and their traditional ways of life. Liang's obvious passion for the Indians as a people, coupled with his emphasis on historical accuracy, adds strength and truth to his portrayals. More
Frank C. Mccarthy
Splitting The Herd
Limited Edition Print Of: 550
Size: 21 1/2"w X 14 3/8"h.
Native Americans Would Often Try To Break Up A Herd Into Smaller Groups Because Riding Into A Large Herd Is Difficult. Then They Would Run That Buffalo Around In Circles Making The Animals Fall Over Each Other. The Bow Men Usually Moved To The Left-hand Side Of The Buffalo To Get The Arrow Into Its Heart. The Men With The Spears Are Normally On The Other Side Of The Group Because They Can Get More Power Into Their Right Hands. More
Z.S. Liang
Circling The Enemy
During The Mid-nineteenth Century, Conflict With Resident Native Americans Intensified As Settlers Continued Their Westward Expansion. This Mixed Party Of Lakota And Northern Cheyenne Warriors Stands Literally Between The West And An Approaching Convoy Of Covered Wagons. The Skies Are Dark And Threatening, Emphasizing The Imminent Expansion And Conquest Of The Native Americans. They Ride Out Bravely In The Setting Sun, Aware That It May Already Be Too Late To Preserve Their Land And Their Lives. More
Z.S. Liang
Painted Robe For Powder And Ball, Musselshell Valley, (montana), 1840
Autumn, Two Blackfeet Hunters Have Come To This Wilderness Outpost With A Prime Painted Buffalo Robe And An Elk Hide To Trade For Powder And Ball. White Men Drawn To The Frontier Were Quick Studies And Adept Survivors. The Man Holding The Robe Runs This Musselshell Valley Trading Post. He Negotiates With The Few Words Of Blackfeet He Speaks And Sign Language. He Has Also Surrounded Himself With Other Fundamental Tools Of Negotiation For This Part Of The World. Next To Him Stands A Large And Robust Woodsman Whose Physical Power Could Be Crucial In This Dangerous Environment. Sitting On The Wooden Barrow Is A Well Experienced Hunter. In His Arm, A Loaded Gun And A Pistol In His Belt Are Ready For Any Sudden Threat. Safety Is Not The Concern Of These Blackfeet Men, Trade Is. Both Hunters Are Wearing Capotes That Have Been Made From Hudson Bay Company Blankets. The Older Of The Two Leads Their Side Of The Negotiation. From His Body Language It Is Apparent That He Has Had Experience In Trading With The White People. His Less Experienced Partner Waits Quietly And Carefully Observes. A Painted Hide Could Trade For Five Times The Value Of A Regular Hide. This Was Not Only A Result Of The Artwork That Adorned It But Also Because The Best Hides Was The Ones Chosen For This Treatment. He Is Doing His Best To Carefully Communicate The Value Of This Robe, Hoping To Make A Good Deal. Fall Is An Important Hunting Season And The Additional Ammunition This Trade Can Secure Will Help To Provide Enough To Eat For The Long Cold Montana Winter Ahead. More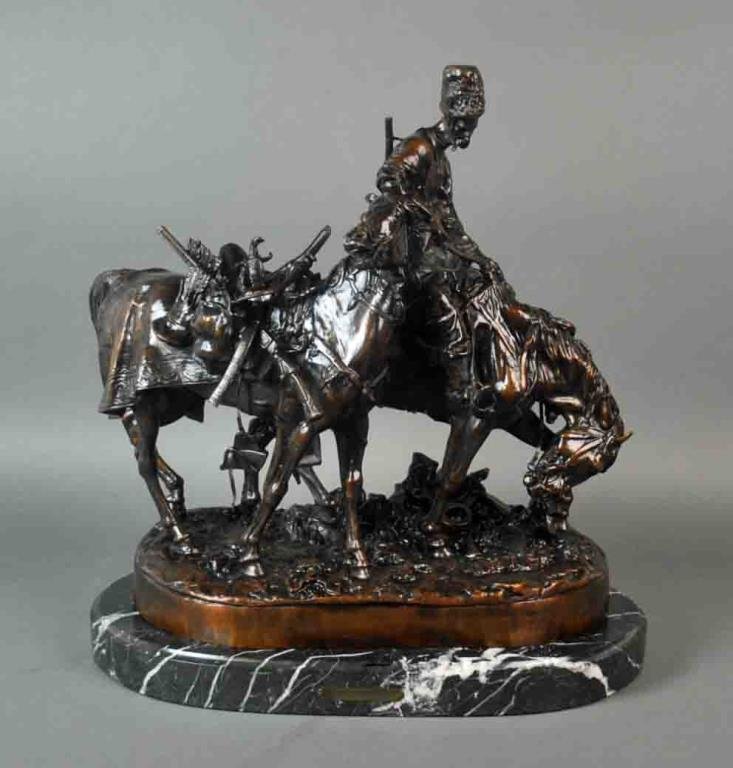 Evgeni Alexandrovich Lanceray (Russian, 1848-1886)
GROUP OF A COSSACK AFTER BATTLE
Signed in Cyrillic on base
Yevgeny Yevgenyevich Lansere (23 August 1875 – 13 September 1946), was a Russian graphic artist, painter, sculptor, mosaicist, and illustrator. He came from a prominent Russian artistic family.
Lanceray took his first lessons at the Drawing School of the Imperial Society for the Encouragement of the Arts in St. Petersburg from 1892 to 1896. He then traveled to Paris, where he continued his studies at the Académie Colarossi and Académie Julian between 1896 and 1899.
After returning to Russia, Lanceray joined Mir iskusstva, an influential Russian art movement inspired by an artistic journal, founded in 1899, in Saint Petersburg. Like other members of Mir iskusstva, he was fascinated with the "sparkling dust" of Rococo art, and often turned to 18th-century Russian history and art for inspiration.
Lanceray was the only prominent member of Mir iskusstva to remain in Russia after the Revolution of 1917. He left Saint Petersburg in 1917, and spent three years living in Dagestan, where he became infatuated with Oriental themes. His interest increased during journeys made in the early 1920s to Japan and Ankara, Turkey. In 1920, he moved to Tbilisi, Georgia. During his stay in Georgia, he lectured at the Tbilisi State Academy of Arts (1922–1934) and illustrated the Caucasian novellas of Leo Tolstoy.
Lanceray left Georgia in 1934, settling in Moscow. Three years before his death, he was honored with the Stalin Prize. He died in Moscow at age 71. More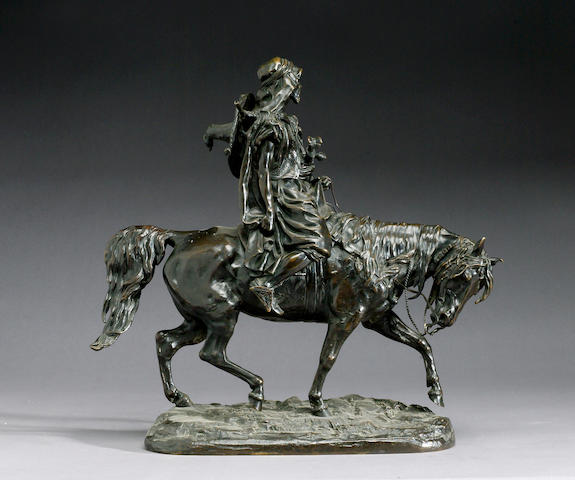 Evgeny Alexandrovich Lanceray (Russian, 1848-1886)
A bronze equestrian group of a Mongolian warrior
the rider wearing a tied head-dress, a high crowned straw hat and rifle on his back, a sword at this waist, on naturalistic rounded rectangular base, dark brown patination, bearing Cyrillic signature to the front (rifle detached at barrel)
UNTITLED (BOATS RETURNING)
Dimensions: 17.5 X 27.5 in (44.45 X 69.85 cm)
T.B. Hardy was a marine painter and watercolourist, born in Sheffield he travelled on the continent, particularly Holland and Italy. In 1884 he was elected a full member of the Royal Society of British Artists, where he exhibited a large proportion of his work. He also exhibited at the Royal Academy and the New Watercolour Society. Within his own lifetime Hardy was very successful and several of his watercolours were reproduced as lithographs.
Artist Pablo Picasso is still young at 80 years old
Bronze
Signature: P. J. Mene on left leg
Measurement: 25.125" x 18.5" x 7.375"
Pierre-Jules Mene was born in Paris on March 25, 1810 , the son of a prosperous metal-turner. His father trained him in metal-working techniques and the boy quickly put them together with his own natural talent. After his marriage at age 22, Mene, like many of the other famous 19th century sculptors, including Barye, Dalou, and Rodin, began his career as an ornamiste , making ornamental models for porcelain manufacturers, creating clock decorations, and doing some small commercial bronzes. In 1837 Mene established the first of what would be a series of foundries to cast his sculptures. The following year, he made his debut at the Paris Salon with a piece called Dog and Fox . Two years later, he showed several pieces there, including Horse Attacked by a Wolf . From that point on, he regularly exhibited at the Salon, eventually winning four awards: a 2nd class medal in 1848, a first-class in 1852 and 1861, and a third class in 1855. More
Antonio Bin (1896-1987)
Portrait Of Joan Of Aragon After Raphael (1483-1520)
Year or Era Produced: 20th Century
Measurement: 39" x 32"
Antonio Bin was a copyist of Leonardo Da Vinci's and the Old Masters paintings.