Attributed to Bonaventura Peeters (Antwerp 1614-1652)
A Dutch man-of-war and other ships in choppy waters before
the town of Veere
Bonaventura Peeters or Bonaventura Peeters the Elder (23 July 1614 – 25 July 1652) was a Flemish painter, draughtsman and etcher and one of the leading marine artists in the Low Countries in the first half of the 17th century. More
Bonaventura Peeters (1614–1652)
Seascape with Sailors Sheltering from a Rainstorm, c. 1640s
Oil on oak panel
33.2 × 45.7 cm (13.1 × 18 in)
National Maritime Museum
A group of sailors huddle, in a cave, beneath a rugged cliff. Torrential rain falls diagonally from the thick black clouds which hover menacingly above. A smooth, flat sea is rendered in silvery-grey tones. While darker areas suggest the shadows of the boats. Additionally, pale brown and green areas in the shallows hint at the emergence of rocks from beneath the surface of the water. The sailors, on the left, are composed into a tight group. Interactions between them are intimated by facial expressions and physical gestures. They are variously occupied. On the far left one drinks from a barrel. Next to him a man huddles wrapped in a shawl. While other figures stand nearby or are seated. They are accompanied by a small dog on the right. One of the seated figures is looking out towards a sailor, who remains on one of the boats. He, in turn, looks over towards the sheltering group. Their boats, with sails lowered and furled, are anchored in the shallow water. While, previously, the figures have been interpreted as smugglers sheltering from a storm, a more convincing reading suggests that they are in fact fishermen. Their humble appearance lends to the idea that Peeters's intention was to portray them as quasi-heroic figures, happily living an idealized, rural existence. More
Antonio Jacobsen (American/Danish, 1850-1921)
Antilia, 1893
Oil on canvas
22 x 36 inches (55.9 x 91.4 cm)
Signed, dated, and inscribed lower right: A. Jacobsen 1893 / 705. Palisade at West Hoboken / NJ
Antilia, 1893.
A Norwegian steamer, chartered by Bahamas company, specially designed for colonial trade between Nassau and New York.
Antonio Nicolo Gasparo Jacobsen (November 2, 1850 – February 2, 1921) was a Danish-born American maritime artist known as the "Audubon of Steam Vessels". Jacobsen was born in Copenhagen, Denmark where he attended the Royal Academy of Design before heading across the Atlantic Ocean. He arrived in the United States in August 1873. and settled in West Hoboken, New Jersey (now Union City, New Jersey), across the Hudson River from Manhattan and New York Harbor, its port filled with ships from America and around the world. Jacobsen got his start painting pictures of ships on safes, and as his reputation grew, he was asked to do portraits of ships by their owners, captains and crew members, with many of his works sold for five dollars.
Jacobsen painted more than 6,000 portraits of sail and steam vessels, making him "the most prolific of marine artists". Many of his commissions came from sea captains, and Jacobsen was chosen both for the accuracy of his work and his low fee. More
Antonio Jacobsen (American/Danish, 1850-1921)
Athens
, 1878
Oil on canvas
24 x 42 inches (61.0 x 106.7 cm)
Signed, dated, and inscribed lower right:
Antonio Jacobsen NY 1878 / 257. 8 Av
Athens, built by New York Shipbuilding Co., Camden | ex- Somerset, 1917 purchased from Merchants & Miners Transportation Co. renamed City of Athens, 2 May 1918 rammed and sunk by the French cruiser Gloire with the loss of 106 lives.
Aloysius C. O'Kelly (American/British, 1853-1926)
Tugboats in the East River, New York
, circa 1910
Oil on canvas
20-1/8 x 29 inches (51.1 x 73.7 cm)
Signed lower right:
Aloys O'Kelly
Aloysius O'Kelly (3 July 1853 in Dublin – 1936) was an Irish painter. He was the youngest of four boys and one girl to the Kelly family of Dublin. It was his mother who directed him towards a career in the arts. His uncle on his mother's side was John Lawlor, a successful sculptor, and his cousin, Michael Lawlor, was also a sculptor employed in London. Aloysius' brothers, Charles and Stephen, also became artists.
O'Kelly traveled to Paris in order to enroll at the École des Beaux-Arts in 1874, where he studied under Bonnat and Gérôme. He traveled to Brittany in 1876 painting its aesthetic coastlines, fishing ports and villages.
In October 1881, Charles Stewart Parnell, a member of Parliament and leader of the Irish Party, was arrested and imprisoned in Kilmainham. Two days following his arrest, Aloysius' brother, James J. O'Kelly, along with some other Party members, including John Dillon, were imprisoned where they remained until May 1882. A number of Aloysius' drawings during this period portrayed the political situation dealing with his brother's incarceration.
O'Kelly lived in Concarneau, Connemara and eventually the United States, painting rural scenes in the prior and city life in New York City. More
William Ritschel (American, 1864-1949)
Swept Ashore
Oil on canvas
19 x 26 inches (48.3 x 66.0 cm)
Signed lower right: Wm Ritschel
William Frederic Ritschel (1864–1949) was a California impressionist painter who was born in Nuremberg, Germany on July 11, 1864. As a youth, he worked as a sailor and began sketching seascapes. He studied art under Karl Raupp (1837–1918) and Wilhelm von Kaulbach (1805–1874) at the Royal Academy of Munich before immigrating to New York City in 1895. In 1911, he settled in Carmel-by-the-Sea, California and began painting Monterey Peninsula. He died in Carmel in 1949. More
John J. Holmes (British, 20th Century)
The Royal Yacht Britannia
signed 'John J Holmes' (lower right)
oil on board
59.5 x 90cm (23 7/16 x 35 7/16in)
.
Her Majesty's Yacht Britannia is the former royal yacht of the British monarch, Queen Elizabeth II, in service from 1954 to 1997. She was the 83rd such vessel since the restoration of King Charles II in 1660. More
John J Holmes Marine artist. Lives in Tynemouth, Berwick-Upon Tweed. He moved to Edinburgh in his mid-twenties, working in research and teaching laboratories. Consequently, a large number of his illustrations appear in text books and scientific journals.
In 1985 he retired to dedicate more time to his painting. In a relatively short time he has built up a reputation for accuracy and detail, a skill he attributes to the long hours spent peering into microscopes! However, he also manages to capture the mood and atmosphere of his subjects whether they be animals in the wild or landscapes such as the Border Moors.
His work often has a nautical theme, with ships, particularly sailing ships, being one of his favourite subjects. - See more
David Brackman - 1932-2008 - BRITISH
AMERICA'S CUP, 1870, MAGIC VERSUS CAMBRIA
signed David Brackman and dated 04 (lower left)
Cambria was the first, though unsuccessful, challenger attempting to lift the America's Cup from the New York Yacht Club. In 1868, James Lloyd Ashbury commissioned Michael Ratsey of Cowes to build a 188 ton schooner, Cambria.
Cambria had a highly successful racing season in 1869, winning the Round the Isle of Wight Race. Ashbury was encouraged by Cambria‍ '​s success in race, particularly because the champion American schooner Sappho had finished last. In October 1868 Ashbury wrote to the New York Yacht Club offering to be the first challenger for the America's Cup. He subsequently exchanged letters with Gordon Bennett, sportsman and owner of the New York Herald, challenging him to a trans-Atlantic race, prior to competing for the cup on behalf of the Royal Thames Yacht Club.
In July 1870 Ashbury raced Cambria across the Atlantic Ocean from Ireland to New York in challenge against Bennett's yacht, Dauntless. Cambria won the race by arriving first off Sandy Hook lightship in 23 days 5 hours and 17 minutes; 1 hour 43 minutes ahead of Dauntless.
The race for the America's Cup was held on 8 August, with Cambria facing 14 yachts of the New York Yacht Club. The race was won by Magic, with Cambria finishing eighth. More
The 1870 America's Cup was the first America's Cup to be hosted in the United States. James Lloyd Ashbury's yacht Cambria sailed to New York on behalf of the Royal Thames Yacht Club. The New York Yacht Club entered 17 schooners, and the race was won by Franklin Osgood's Magic. More
David Brackman, British (1932 - ). Born 1932 in London David Brackman is considered one of the most outstanding marine artists working today. David's love of the Sea started as a result of being evacuated to the East Coast of England during the second world war. It was there as a child that he was drawn to the drama and beauty of the sea. Although his work was very successful, he won a gold medal at one of the best model exhibitions in London, he was needed by the family business. Again he achieved great success, this time it was as a fashion designer.
As soon as family commitments allowed he gave up the fashion business and spent several years sailing his yacht "Panache" around the waters of Britain, Europe and down to around the Mediterranean. His one frustration happened when he and a small crew were casting off at the start of a trans-Atlantic voyage. David cut his hand so badly that he was cast ashore as the last rope was cut off.
David's work is in the possession of the Royal Family and some of the finest private collections, museums and boardrooms in the world. More
Montague Dawson R.S.M.A., F.R.S.A. -
1895-1973 -
BRITISH
SEA BEAUTY (THE FLYING CLOUD)
signed MONTAGUE DAWSON (lower left); titled SEA BEAUTY PN 1546 ('THE FLYING CLOUD') / BUILT IN 1851 1.783 TONS on the stretcher
61 by 91.4 cm
Clippers were the fastest sailing ships at sea through the 1850s. Crisscrossing the world's oceans, they followed the trade routes between the United Kingdom and its eastern colonies as well as the trans-Atlantic trade routes between New York and San Francisco.
Among these yacht-like vessels, Flying Cloud was the most celebrated. Built for the firm Enoch Train & Co., by Donald McKay of East Boston in 1851, at 225ft long, 40ft 8 in. broad she was the largest merchant sailing ship at sea, and from her maiden voyage, was also among the fastest. Flying Cloud sailed between New York and San Francisco, rounding Cape Horn, reducing the trip's average length of 120 days to eighty nine days and twenty one hours. In 1854, she beat her own record by thirteen hours, arriving in San Francisco to cheering crowds. Flying Cloud's speed was essential during America's gold rush and she, like many clippers, was in high demand to carry precious cargo. As valuable as gold was, tea was perhaps even more prized, and soon after Flying Cloud's record-breaking run, she was reprovisioned for the China trade runs. On August 7, 1854, heavy with one million dollars of tea, she struck a coral reef in the South China Sea. Rather than take time to dock and repair, Flying Cloud's crew battled the incoming water from the rip in the hull with around-the-clock pumping, bringing her safely back to New York on November 24th. Throughout these adventures, Flying Cloud was captained by the tenacious Josiah P. Cressy, and his wife Eleanor was her navigator (As a woman, her profession was remarkable for its time; she learned to sail from her father in the waters off Marblehead, Massachusetts). Little could stop Captain Cressy in his quest for speed, and Dawson captures his aptly-named vessel, set against a blue sky, her full white sails overlapping the clouds as she flies across the horizon of white-capped, glittering waves. More
Montague Dawson RMSA, FRSA (1890–1973) was a British painter, renowned as a maritime artist. His most famous paintings depict sailing ships, usually clippers or warships of the 18th and 19th centuries. Dawson was the son of a keen yachtsman and the grandson of the marine painter Henry Dawson (1811–1878), born in Chiswick, London. Much of his childhood was spent on Southampton Water where he was able to indulge his interest in the study of ships. For a brief period around 1910 Dawson worked for a commercial art studio in Bedford Row, London, but with the outbreak of the First World War he joined the Royal Navy. Whilst serving with the Navy in Falmouth he met Charles Napier Hemy (1841–1917), who considerably influenced his work. In 1924 Dawson was the official artist for an Expedition to the South Seas by the steam yacht St.George. During the expedition he provided illustrated reports to the Graphic magazine.
During these years his artwork was also published in the newspaper The Sphere. His works are featured in the Royal Naval Museum and the National Maritime Museum. Dawson was present at the final surrender of the German High Seas Fleet and many of his illustrations depicting the event were published in theSphere.
After the War, Dawson established himself as a professional marine artist, concentrating on historical subjects and portraits of deep-water sailing ships often in stiff breeze or on high seas. During the Second World War, he was employed as a war artist and again worked for The Sphere. Dawson exhibited regularly at the Royal Society of Marine Artists, of which he became a member, from 1946 to 1964, and occasionally at the Royal Academy between 1917 and 1936. By the 1930s he was considered one of the greatest living marine artists, whose patrons included two American Presidents, Dwight D Eisenhower and Lyndon B Johnson, as well as the British Royal Family. Also in the 1930s, he moved to Milford-Upon-Sea in Hampshire, living there for many years. Dawson is noted for the strict accuracy in the nautical detail of his paintings which often sell for six figures.
The work of Montague Dawson is represented in the National Maritime Museum, Greenwich and the Royal Naval Museum, Portsmouth. More
Montague Dawson R.S.M.A., F.R.S.A. - 1895-1973 - BRITISH
THE SOUTHERN CROSS
signed MONTAGUE DAWSON (lower left); inscribed on the stretcher THE WINNER IN SUNLIT SEAS THE "SOUTHERN CROSS" 950 TONS BUILT AT BOSTON IN 1851
The Southern Cross, 938 tons and 170 ft long, was built by E & HO Briggs of South Boston in 1851 for Baker & Morrill. Commanded by Captain Levi Stevens, Southern Cross made her maiden voyage to San Francisco in May 1851, and was immediately recognized for her impressive speed of up to twenty-two knots. She held the remarkable record of fifty-six days for her voyage from San Francisco to Calcutta and 106 days spent crossing from Manilla to New York in 1853. (Basil Lubbock, The China Clippers, Glasgow, 1919 (reissued 1981), p. 68-9). After over a decade of successful voyages, during the Civil War Southern Cross fell prey to the Confederate raider CSS Florida, known as the "Prince of Privateers." On January 16, 1863, Florida broke through the Federal blockade of Mobile, and began a seven-month cruise in which she captured twenty-two vessels, including Southern Cross, which was burned. As such, the present work stands as Dawson's testament to the innovative design, power and speed of the magnificent Southern Cross in her glory racing across the sea. More
Robert Salmon - 1775 - 1850 - BRITISH
AN OUTWARD-BOUND, EIGHTEEN-GUN MERCHANTMAN AT THE TAIL OF THE BANK, PORTRAYED IN THREE POSITIONS
signed with initials R.S. and dated 1814 (lower right)
"Tail of the Bank." In the early nineteenth century, a large sandbank prevented the easy sailing of ships up the Clyde and the "Tail of the Bank" formed a natural anchorage where ships could wait for further assistance. With this composition, Salmon depicts a single ship in three separate views, and with the port broadside view (center foreground), shown hove-to to allow a pilot aboard. At her foremast is a house-flag with the letter "B," and at the mainmast a long pennant in naval style, suggesting she has been given the letters of a marque as a privateer and may capture enemy ships. Further formidable clues are the eighteen guns she carries and her camouflaging black and white trim which at a distance would suggest she is a Naval frigate. Around 1814, the year Salmon completed the present work, such vessels were critical in Britain's efforts against Napoleon's naval advances and its war with America. In their patriotic duty, merchant captains could earn great sums as they picked off the enemy's commercial vessels as the spoils were divided between them and the British government. More
Robert Salmon (1775 – c. 1845) was a maritime artist, active in both England and America. Salmon completed nearly 1,000 paintings, all save one of maritime scenes or seascapes. He is widely considered the Father of American Luminism More
Montague Dawson R.S.M.A., F.R.S.A. - 1895-1973 - BRITISH
A CLIPPER SHIP ON THE HIGH SEAS
signed MONTAGUE DAWSON (lower left)
Montague Dawson R.S.M.A., F.R.S.A. - 1895-1973 - BRITISH
GAY WEATHER: ONE-DESIGNS RACING INSHORE AND OUT OF THE TIDE OFF THE ISLE OF WIGHT
signed Montague Dawson (lower left); titled Gay weather on a label on the reverse
While Dawson is celebrated for his paintings of majestic clipper ships on open seas (as above), another important aspect of his oeuvre is his scenes of yacht racing in the Solent, the strait between England's South Coast and the Isle of Wight. The present work's vertical composition and cropped perspective affords a thrilling view of yachts in close pursuit of one another: each competitor's tall, taut sails, the smooth cloth and sleek vessel, rendered with fine brushwork, contrasting with the swaths of blue-green paint of the choppy water. The subject may have resonated particularly with Dawson, who grew up on Southampton Water, the son of a yachtsman. More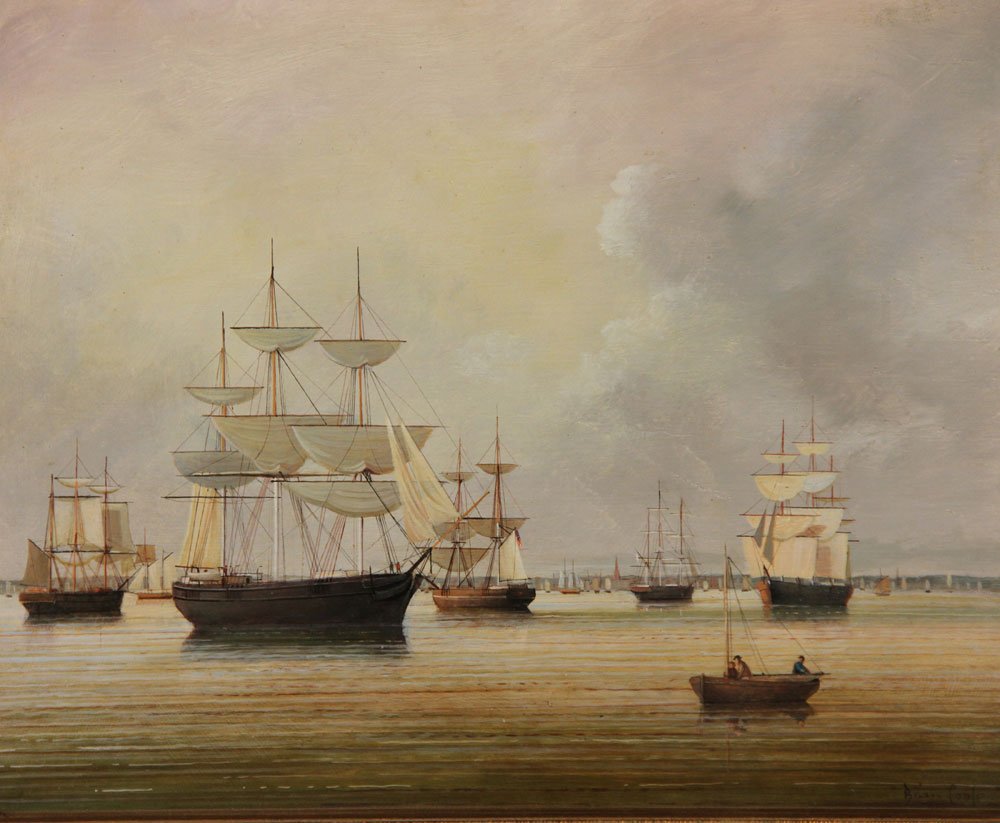 Brian Coole (British, 1939)
Manhattan as seen from Hudson River c. 1820,
Oil on Panel
12" h x 15" w
Brian Coole, born in Edgeware, Middlesex, England, February 14th 1939. Irish parentage, strongest affiliation USA. Still living.
Entirely self-taught. Visits to public museums and galleries give his claimed influences of William Wyllie through a spectrum ranging to Rembrandt and Canaletto, although in the US, his work is compared to that of Fitz Hugh Lane.
Was commissioned, in 2001 to paint Three historical ship portraits for The Royal Naval Museum (United Kingdom)"" for permanent display. More