Charles-Alexandre Léon Durand, Comte de Linois (27 January 1761 – 2 December 1848) was a French admiral during the time of Napoleon Bonaparte. In 1803 Napoleon appointed him to command the French forces in the Indian Ocean and, flying his flag aboard the 74-gun-ship Marengo (ex-Jean-Jacques Rousseau)
, he harried British merchant ships across the ocean and into the China Seas.
Model, first quarter of the 1800s. Made following plans by Jacques-Noël Sané
1/33rd-scale model of the Achille
Musée national de la Marine
The Achille, sister-ship of French ship Marengo (1810).
Jean-Jacques Rousseau was a Téméraire class 74-gun ship of the line of the French Navy.
In October 1796, under Captain Racord, she was part of the Villeneuve's squadron that sailed from Toulon to Brest. On 2 December 1802, she was renamed to Marengo (reflecting the political change from the Revolutionary Republic inspired by Jean-Jacques Rousseau to the advent of General (soon to be Emperor) Napoleon).
In 1803 she sailed to the Indian Ocean as Linois' flagship, notably taking part in the Battle of Pulo Aura and the Battle of Vizagapatam.
Charles Brooking (1723–1759)
This is a portrait of an East Indiaman in the foreground, in port-quarter view. The ship in the distance to the left approaches in starboard-bow view, heeling on the port tack under fore and main-course.
National Maritime Museum, Greenwich
East Indiaman was a general name for any sailing ship operating under charter or licence to any of the East India Companies of the major European trading powers of the 17th through the 19th centuries. The term is therefore used to refer to vessels belonging to the Danish, Dutch, English, French, Portuguese, or Swedish East India companies.
During the French Revolutionary and Napoleonic Wars they were often painted to resemble warships; an attacker could not be sure if gunports were real or merely paint, and some Indiamen carried sizable armaments. The Royal Navy acquired several East Indiamen, turning them into fourth rates (e.g., HMS Weymouth and HMS Madras, described above), maintaining the confusion for military ships seeking merchant ships as prizes of war.
More
Charles Brooking (c.1723–59) was an English painter of marine scenes. Brooking became much more widely known in 1754, when he was commissioned to paint A Flagship Before the Wind Under Easy Sail. This painting is a huge sea piece intended to "match" another painting, whereabouts unknown, said to be of a "Fleet in the Downs", by Peter Monamy.
Brooking is said to have died of consumption on 25 March 1759, reportedly leaving his family destitute
John Cleveley the Elder circa 1712 - 1777
The East Indiaman' Princess Royal, c. 1770
75 × 111.5 cm (29.5 × 43.9 in)
Princess Royal, launched in 1786, was an East Indiaman. She made two complete trips to India for the British East India Company and was on her third trip, this one to China, when French privateers or warships captured her on 27 September 1793. The French Navy took her into service in the Indian Ocean as a 34-gun frigate under the name Duguay Truin. The Royal Navy recaptured her and she returned to British merchant service. In 1797 she performed one more voyage for the EIC. She received a letter of marque in July 1798 but then disappears from readily available records. More
John Cleveley the Elder (c.1712 – 21 May 1777) was an English marine artist. He was born in Southwark. His father set him up as a carpenter or shipwright in around 1742. Continuing his work in that area throughout his life. From about 1745 he also worked as a painter, mostly ship portraits, dockyard scenes of shipbuilding and launches, and some other marine views. They combined his knowledge of shipbuilding with accurate architectural and topographical detail. Apparently mostly self-taught, it is possible that dockyard ship-painters also gave him some training in this area. He toured East Anglia, and produced some paintings from notes made on that trip. More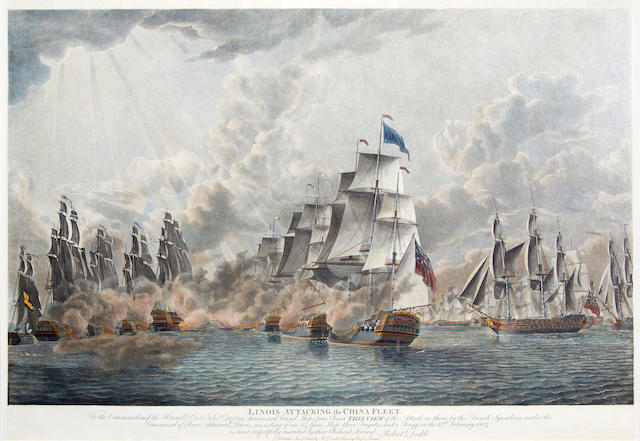 After Robert Dodd (British, 1748-1816)
Linois attacking the China Fleet
19-1/2 x 28-3/4 in. (49.53 x 73 cm.)
Collections of the National Maritime Museum
Inscribed: "To the Commander of the Honorable East India Company's homeward bound Ships from China THIS VIEW of the Attack on them by the French Squadron...on 15th February 1804..."
After Robert Dodd (British, 1748-1816)
Repulse of the Linois by the China Fleet
19-1/2 x 28-3/4 in. (49.53 x 73 cm.)
Collections of the National Maritime Museum
Inscribed: "This View, comprising Portraits of the several Ships in the Fleet, on that memorable day, making Sail in pursuit of the retreating enemy; Is with the greatest respect Inscribed to the respective Commanders, by their Obed.t Servant Rob.t Dodd."
At the Battle of Pulo Aura in 1804, a squadron of French naval ships commanded by Linois encountered the British China Fleet of lightly armed merchant ships. The British ships outnumbered Linois' forces, manoeuvred as though preparing to defend themselves, and some flew naval ensigns. The tactics of the convoy commodore Nathaniel Dance fooled Linois into believing that the British fleet was defended by naval escorts and he retired without attacking the virtually defenceless British.
Sir Nathaniel Dance (20 June 1748 – 25 March 1827) was an officer of the Honourable East India Company who had a long and varied career on merchant vessels and the the fleets of East Indiamen. His greatest achievement came during the Napoleonic Wars, when having been appointed commodore of one of the company's fleets, he came across a French squadron under Rear-Admiral Comte de Linois, which was raiding British shipping in the area.
He fooled Linois into believing that the British fleet was defended by naval escorts and he retired without attacking the virtually defenceless British.
. Dance was hailed as a hero, lavishly rewarded with money and a knighthood, and spent the last years of his life in comfortable retirement.
Robert Dodd (1748–1815) was a British marine painter and aquatint engraver. He is known for his works on the French Revolutionary Wars. Living in Wapping, London, he had plenty of material to hand in the way of ships, docks and wharfs, and much of his work includes scenes of the River Thames and naval dockyards. Other themes include battles and actions of the French Revolutionary Wars and the American War of Independence. Much of his work was subsequently engraved by other artists. His use of light effects, particularly the contrasts between the sun's rays and the dark clouds, or the fire against the smoke of battle, convey the drama and activity of a sea battle. Although technically accurate and meticulous, his artistic talents were somewhat eclipsed by the greatest of his peers, and it is his contribution to the historical record that is his greatest legacy. More on Robert Dodd
William Daniell (1769–1837)
The fleet of the East India Company homeward bound from China engaging and repulsing a French squadron near the Straits of Malacca, on 15 February 1804.
This painting:
Commodore Dance's Indiamen (centre), protecting the merchant fleet (right), engage Admiral Linois's squadron (left)
Inscribed:
'To The Honorable... East India Company. This Print of the Action between the China Fleet... & a Squadron of French Ships of War... Linois, in the China Sea, on the 15th Feby 1804 representing the Commencing of the Attack led on by Capt. I.F. Timmins in the Royal George is... dedicated by... George Andrews'.
Francis Sartorius (1734 – 5 March 1804). Francis was the son and pupil of John Sartorius. He was a prolific and popular painter. Francis contributed 38 works for exhibition at various London galleries including twelve to the Royal Academy, 7 to the Society of Artists and 20 to the Free Society of Artists. He lived in London during the years he was exhibiting, finally residing in Soho, London. He died on 5 March 1804, in his 70th year. More
Linois's officers and the Emperor Napoleon personally castigated the French admiral for his failure to press the attack against a weaker and extremely valuable enemy. Although he remained in command of the squadron for another two years and had some minor success against undefended merchant ships, he suffered a string of defeats and inconclusive engagements against weaker British naval forces.
William Daniell (1769–1837)
Defeat of Adml. Linois by Commodore Dance, Feb. 15th.
Thomas Sutherland (engraver)
Collections of the National Maritime Museum
William Daniell RA (1769–1837) was an English landscape and marine painter, and engraver. He travelled extensively in the Far East, helping to produce one of the finest illustrated volumes of the period – Oriental Scenery. He also travelled around the coastline of Britain to paint watercolours for the equally ambitious book A Voyage Round Great Britain. His work was exhibited at the Royal Academy and the British Institution and he became a Royal Academician in 1822
Sir James Lind
Defence of the Centurion in Vizagapatam Road, Septr. 15th 1804
Engraving by Thomas Sutherland, c. 1818
The Battle of Vizagapatam was a minor naval engagement fought in the approaches to Vizagapatam harbour in the Coastal Andhra region of British India on the Bay of Bengal on 15 September 1804 during the Napoleonic Wars. A French squadron under Contre-Admiral Charles-Alexandre Durand Linois in the ship of the line Marengo attacked the British Royal Navy fourth rate ship HMS Centurion and two East Indiaman merchant ships anchored in the harbour roads.
Since Pulo Aura, Linois had been cruising the Indian Ocean, and during August and September 1804 had seized a number of valuable merchant ships as his squadron travelled north from Ceylon along the Indian coast of the Bay of Bengal. Linois learned of the presence of the East Indiamen at Vizagapatam and determined to attackt. Arriving off the port at 06:00, Linois advanced on the convoy, causing one of the East Indiamen to drive ashore in panic. The other merchant vessel failed to support the outnumbered Centurion and was captured, but Centurion continued fighting alone. After an engagement lasting four hours Marengo withdrew, the badly damaged Centurion attempting to pursue but without success. Linois's squadron was forced to return to Île de France in the aftermath of the engagement, where Marengo required six months of repairs.
The capture of the French ship Marengo by HMS London on 13 March 1806.
Marengo was taken into British service as HMS Marengo. She was used as a prison hulk from 1809 until she was broken up in 1816.
Returning to France, Linois encountered
with the division of Vice-Admiral Sir John Warren, with seven ships of the line (including the 108-gun London, the 82-gun Ramillies and Repulse, and the 80-gun Foudroyant), two frigates (including the 48-gun Amazon) and one corvette. After a fierce duel with London, Marengo struck her colours; Belle Poule battled against Amazon and later against Ramilles, and had to surrender as well.
, Linois was wounded and captured. Napoleon had ended the practice of exchanging officers and Linois remained a prisoner of war until Napoleon fell in 1814. In 1810, while held by the British, Linois was named comte de Linois by Napoleon.
Please visit my other blogs: Art Collector, Mythology, Marine Art, Portrait of a Lady, The Orientalist, Art of the Nude and The Canals of Venice, Middle East Artists, 365 Saints and 365 Days, also visit my Boards on Pinterest
Images are copyright of their respective owners, assignees or others. Some Images may be subject to copyright
I don't own any of these images - credit is always given when due unless it is unknown to me. if I post your images without your permission, please tell me.
I do not sell art, art prints, framed posters or reproductions. Ads are shown only to compensate the hosting expenses.
If you enjoyed this post, please share with friends and family.
Thank you for visiting my blog and also for liking its posts and pages.
Please note that the content of this post primarily consists of articles available from Wikipedia or other free sources online.