Derek George Montague Gardner (British, 1914-2007)
The battle between the H.M.S. Shannon and the U.S.S. Chesapeake
Signed and dated "Derek G.M. Gardner/1988"
13-1/4 x 19 in. (33.6 x 48.2 cm.)
This painting: During the War of 1812, the duel between the Royal Navy's frigate H.M.S. Shannon and the American frigate Chesapeake became a critical moment of the war. Cruising off the eastern seaboard in May, Captain Philip Broke of the Shannon had spotted the American frigates Chesapeake and Constitution refitting in Boston. Broke immediately challenged Captain Lawrence of the Chesapeake to come out and fight, sending a verbal challenge. However, this challenge went unanswered and Broke soon began to despair of Chesapeake ever leaving the harbor, and so he later sent a written challenge, and at noon on 1st June 1813, the Chesapeake stood out of Boston Roads for battle. A furious action followed lasting a mere fifteen minutes; Captain Broke was mortally wounded leading his boarding party, and casualties on both vessels were very high. Soon overwhelmed, Chesapeake surrendered and Shannon took her as a prize into Halifax, Nova Scotia.
Derek George Montague Gardner (13 February 1914 – 11 February 2007) is best known as an English painter. After a career as a civil engineer before and after serving in the Royal Navy in the Second World War, he became widely recognised as one of the leading English painters of marine subjects.
He was educated at Oundle School, where he won a prize for his drawing. He left school in 1931, and trained as a civil engineer in Glasgow with the London Midland & Scottish Railway. He later joined Sir William Arrol & Co. He joined the RNVR as a 20-year-old midshipman, and took up painting watercolours of warships. He became a docks engineer at North Shields in 1938.
More
after William Lionel Wyllie (British, 1851-1931)
TRAFALGAR.21 OCTOBER.1805.
printed in colors
signed on the plate and dated 1905
Published by Bemrose & Sons Ltd, 1905.
18 x 30 in.(45.7 x 76.2 cm.)
William Lionel Wyllie (London 5 July 1851 – 6 April 1931 London) was a prolific English painter of maritime themes in both oils and watercolours.[2] He has been described as "the most distinguished marine artist of his day." His work is in the Tate, the Royal Academy, the Imperial War Museum, the National Maritime Museum and many other institutions around the world. More
* BRIAN COOLE (UK, 1939 - )
'Challenge'
Built in 1851 by William H. Webb of Boston
Challenge.
As a challenge to the 'Flying Cloud' on the San Francisco run, she was 224' long, 2000 tons, with a 230' main mast and 12,780 yards of sail, was wrecked off Ushant at the French end of the English Channel in 1876.
Challenge, 1851, was an extreme clipper built by William H. Webb in NYC for the San Francisco run. 230' mainmast, 224' length, 2000 tons, 12,780 yards of sail. Captain Robert Waterman expected to beat Flying Cloud. Brutal treatment of inexperienced crew by Waterman and first mate James Douglass caused riots when San Franciscans heard of the first passage. Wrecked off Ushant, 1876.
Flying Cloud was a clipper ship that set the world's sailing record for the fastest passage between New York and San Francisco, 89 days 8 hours. The ship held this record for over 100 years, from 1854 to 1989.
Flying Cloud was the most famous of the clippers built by Donald McKay. She was known for her extremely close race with Hornet in 1853; for having a woman navigator, Eleanor Creesy, wife of Josiah Perkins Creesy who skippered Flying Cloud on two record-setting voyages from New York to San Francisco; and for sailing in the Australia and timber trades.
* Brian Coole - (British-American, b. 1939)
BOSTON HARBOR
signed Brian Coole (lower right)
Although Brian Coole, is entirely self-taught, his ship paintings have been compared to the ship paintings of Fitz Hugh Lane, a renowned 19th century American artist who is best known for his Marine themed works and ship 'portraits'. In 2001 Brian Coole was commissioned to paint three ship portraits for the British Royal Naval Museum, Portsmouth, UK.
NEOPOLITAN SCHOOL - 18th c.
Ship Foundering on a rocky shore opposite a city, crew in foreground is attempting to salvage her.
Italian Oil on Canvas
Neapolitan painting of the early seventeenth century is characterized by dramatic expression, emphatic naturalism, and intense chiaroscuro derived from the profound influence of Caravaggio (1571–1610), who spent a number of his later years in the port city. More
'Outward Bound, Concarneau'
signed 'W Lee Hankey' (lower left)
signed and inscribed with the title (on canvas overlap)
61.5 x 74.5cm (24 3/16 x 29 5/16in).
Concarneau is a commune in the Finistère department of Brittany in north-western France. Concarneau is bordered to the west by the Baie de La Forêt. Historically, the old town was a centre of shipbuilding.
William Lee Hankey (1869-1952) was a British painter and book illustrator. He specialised in landscapes, character studies and portraits of pastoral life, particularly in studies of mothers with young children.
Edward Seago, RWS (British, 1910-1974)
'Evening, Ponza'
signed 'Edward Seago' (lower left)
and inscribed with the title (on the reverse)
50.8 x 76.2cm (20 x 30in).
Ponza (Italian: Isola Di Ponza) is the largest of the Italian Pontine Islands archipelago, located 33 km (21 mi) south of Cape Circeo in the Tyrrhenian Sea. It is also the name of the commune of the island, a part of the province of Latina in the Lazio region.
The island was inhabited from neolithic through Roman times. According to local legends, Ponza was named after Pontius Pilate, Roman governor of Judea who tried Jesus of Nazareth for heresy. Pontius Pilate's family owned a grotto on Ponza, which is still named after him. More
Edward Brian (Ted) Seago
(1910-1974),
was an English artist who painted in both oils and watercolours. The son of a coal merchant, born in Norwich. Seago was a self-taught artist, (although he received advice from Sir Alfred Munnings and Bernard Priestman), and enjoyed a wide range of admirers from the British Royal family and the Aga Khan to the common man. His works have been classified as either Impressionist or Post-Impressionist and included landscapes, seascapes, skyscapes, street scenes, his garden and portraits.
He joined the army in WWII and was commissioned as a Second Lieutenant in the Royal Engineers and was employed on developing camouflage techniques for Field Marshal Auchinleck. He continued painting whilst with the Army and gave paintings to those with whom he served. Edward Seago relinquished his Commission on account of ill-health whilst serving as a War Substantive Captain and was granted the honorary rank of Major on 16 October 1944.
Such was his popularity that those who wished to buy one of his paintings had to queue at his various annual exhibitions around the world.
"The Queen Mother bought so many that eventually the artist, who died in 1974, gave her two a year – on her birthday and at Christmas. Prince Philip invited him on a tour of the Antarctic in 1956, and his subsequent paintings, considered to be among his best, hang at Balmoral."
Seago also created the solid silver sculpture of St George slaying the Dragon, which serves as an automobile mascot for any state limousine in which Queen Elizabeth II is travelling. The mascot or "hood ornament", as it would be referred to in the United States, can be transferred from car to car. When the monarch is not aboard, it is substituted for the symbol of the manufacturer, such as the Rolls-Royce Spirit of Ecstasy or the Bentley "B". More
SIMON HARLING, (CA/NH, 1950 - )
"Fedra" 1993
signed and dated lower right
Fedra was a Liberian-registered bulk-carrier cargo ship. It ran aground and smashed against Europa Point, the southernmost tip of Gibraltar on 10 October 2008 following severe gale force winds measuring 12 on the Beaufort scale. Spanish and Gibraltarian emergency services mounted a joint rescue operation, Gibraltar declared a Major Incident and requested the standby of additional statutory and voluntary emergency services (including St John Ambulance Gibraltar), although due to the safe rescue of all crew from Fedra they were ultimately not needed. More
Simon Harling was
born in Colchester, and owing his professional training to the London College of Printing, of all places, he has spent a considerable amount of time in America. He has also exhibited extensively there – indeed, between 1990 and 2005 he hardly exhibited anywhere else – and an impressive number of corporate collections have added his work to their holdings. While his view of America is therefore presumably based on more direct observation than some of his fellow artists in Exactitude who romanticize the wastelands of urban America, there is still no doubt something irreducibly foreign about the way Harling sees things there. That may, indeed, be precisely what Americans like about his work. More
ARTHUR LORENTZ LINGQUIST, (MA/CT, 1889-1975)
Gloucester Harbor, Massachusetts, with Schooner 'Mary'
Arthur Lingquist was born in Helsingborg, Sweden where he studied art. He emigrated to Boston in 1910, hoping to find artistic stimulation. He continued his art studies and earned a scholarship to the New School of Design, in Fall River, Massachusetts.
In 1918, he marred Elsie Sjolin, and with the goal of making more money, he worked as a fresco painter for a company that was well known for its theater decorations, halls and mansions. Applying gold and silver leaf became a specialty, and in his spare time he continued his own fine-art painting.
Most of his landscapes are done in oil, although occasionally he used watercolor. He also experimented with decorating wooden boxes with an Oriental motif. His favorite painting subjects were the Berkshires, Vermont's rugged countryside, falling down old barns, rickety fences and leafy paths.
He loved painting the coast of Maine, Massachusetts, and Connecticut, including the shorelines around Cape Ann and Rocky Neck. In 1955, he spent a year in Skara, Sweden, where he toured and exhibited his work throughout the cities of that country. More
John Korver, (Indonesian/American, 1910-1988)
Dos Amigos
Dos Amigos began her career as a slaver, rigged as a brigantine schooner. Like most slave ships she was a very fast ship. A description from the NMM states that she was a Brazilian vessel running slaves from West Africa to Brazil until 1827. In 1830 she was captured by the British Royal Navy and refitted as a anti-slave patrol vessel, until 1845, under the name Fair Rosamund.
John Korver (November 28, 1910 - November 28, 1988) was born on November 28, 1910 in Surakarta, Indonesia (then known as the Dutch East Indies). John was a very adventurous young man, having little interest in a formal education.
John quit school at a very early age, and developed a keen interest in the arts and culture of Indonesia. His interest in sailing ships and the sea would develop into a lifelong obsession. He was equally interested in America. This adventurous spirit and interest in "anything American" would later bring him to the US.
Honing his craft, he pursued a career in the arts. While still a young man, John managed his own advertising agency. Along with his staff he was commissioned to create advertising copy for a variety of businesses, including consumer goods, travel, and even a nightclub logo. A short time before World War II, John met his future wife, Ida Vertommen.
After the birth of their first child they lived for a time in Jakarta where three more children, Theresa, Carla and Bernadette were born. They were once again forced to return to the Netherlands due to ever increasing hostilities by native Indonesians fighting for independence.
The Korver family immigrated to the United States in 1959 after John's talent was recognized through a talent search promotion held by American Greeting Cards Company located in Cleveland, Ohio. The company sponsored the family's immigration to the US. Thus the Korver's ended up in America, becoming American citizens in the early 1960's.
Sometime in the 1960's after having set up a home for Ida and the girls in Baton Rouge, John was hired to work for LSU, also in Baton Rouge. He was again sought out for his talent as a graphic artist and illustrator. During this time he created the iconic illustration of Mike the Tiger, climbing out of the football stadium. This illustration was used time and again, for football game schedules, various other goods, calendars and even Baton Rouge's phone book.
John Korver eventually left LSU to strike out on his own, working full time as an artist and painter. He proceeded to make a name for himself in Louisiana, and throughout the Southern States.
Korver's paintings depicting rural Louisiana, swamp scenes and plantation homes, as well as the old country and farm scenes, appealed to a growing number of admirers. John was also well known for his seascapes and sailing ships, which were equally popular.
Ida and John later moved to Potrero Hill, in San Francisco for the remainder of their lives. John suffered a stroke in 1985, and although the doctor's did not give the family much confidence for his recovery, John pulled through and lived another 3 years, only to pass away on his birthday, November 28, 1988. He was 78 years old at the time of his death. More
ANDRE DERAIN, (France, 1880-1954)
Loading the Trawler
André Derain (10 June 1880 – 8 September 1954) was a French artist, painter, sculptor and co-founder of Fauvism with Henri Matisse. Derain was born in Chatou, Yvelines, Île-de-France, just outside Paris. In 1895 he began to study on his own. In 1898, while studying to be an engineer at the Académie Camillo, he attended painting classes under Eugène Carrière, and there met Matisse. Matisse persuaded Derain's parents to allow him to abandon his engineering career and devote himself solely to painting; subsequently Derain attended the Académie Julian.
Derain and Matisse worked together through the summer of 1905 in the Mediterranean village of Collioure and later that year displayed their highly innovative paintings at the Salon d'Automne. The vivid, unnatural colors led the critic Louis Vauxcelles to derisively dub their works as les Fauves, or "the wild beasts", marking the start of the Fauvist movement. In March 1906, the noted art dealer Ambroise Vollard sent Derain to London to produce a series of paintings with the city as subject. In 30 paintings (29 of which are still extant), Derain presented a portrait of London that was radically different from anything done by previous painters.
At Montmartre, Derain began to shift from the brilliant Fauvist palette to more muted tones, showing the influence of Cubism and Paul Cézanne. He displayed works at the Neue Künstlervereinigung in Munich in 1910, in 1912 at the secessionist Der Blaue Reiter and in 1913 at the seminal Armory Show in New York. He also illustrated a collection of poems by Max Jacob in 1912.
Derain's work began overtly reflecting his study of the Old Masters. The role of color was reduced and forms became austere; the years 1911–1914 are sometimes referred to as his gothic period. In 1914 he was mobilized for military service in World War I and until his release in 1919 he would have little time for painting, although in 1916 he provided a set of illustrations for André Breton's first book, Mont de Piete.
After the war, Derain won new acclaim as a leader of the renewed classicism then ascendant. With the wildness of his Fauve years far behind, he was admired as an upholder of tradition. The 1920s marked the height of his success, as he was awarded the Carnegie Prize in 1928 for his "Still-life with Dead Game" and began to exhibit extensively abroad—in London, Berlin, Frankfurt, Düsseldorf, New York City and Cincinnati, Ohio.
During the German occupation of France in World War II, Derain lived primarily in Paris and was much courted by the Germans because he represented the prestige of French culture. Derain accepted an invitation to make an official visit to Germany in 1941, and traveled with other French artists to Berlin to attend a Nazi exhibition of an officially endorsed artist, Arno Breker. Derain's presence in Germany was used effectively by Nazi propaganda, and after the Liberation he was branded a collaborator and ostracized by many former supporters.
A year before his death, he contracted an eye infection from which he never fully recovered. He died in Garches, Hauts-de-Seine, Île-de-France, France in 1954 when he was struck by a moving vehicle. More
ATTRIBUTED TO ELISHA TAYLOR BAKER, (CT/NY, 1827-1890)
American Merchant Schooner "J. Waterberry"
The boat,
J. Waterberry,
has a black hull with clipper bow, painted trailboards and red and white stripes below the rail. The vessel's name is painted at the top of the rail below the aft deckhouse, and she is flying a blue pennant with "JW" in white. The American flag aft has grey shadowing typical of Baker's handling, the sky and water have his luminous touch, as does the water breaking at the bow and past the stern.
Elisha Taylor Baker (American, 1827-1890)
The yacht Stranger of the New York Yacht Club off Execution Lighthouse
24 x 42 in. (60.9 x 106.6 cm.)
Stranger and her sister yacht Corsair were among the first large steam yachts built in the United States. The two yachts were designed and built by Wm. Cramp & Sons in 1880, and had principal dimensions of LOA: 189ft, Beam: 23.7ft, and Draft: 10.5ft. Corsair was built for C.J. Osborn, and Stranger was built for George A. Osgood, the two (both the yachts and the owners) were often confused. Stranger eventually went into the U.S. Navy. More
Elisha Taylor Baker (1827-1890), American. Historically, the best marine painters prove to be those who have a working firsthand knowledge of their subject. Born in New York City, his formative years were spent with his extended family in the whaling ports of Connecticut. He married a local woman in 1851 and undoubtedly joined in the lucrative whale oil and baleen trades.
He first formally registers as an artist back in NYC in 1868. This occupation change was likely prompted by the heavy destruction inflicted upon the northern whaling fleets during the American Civil War. The dozens of known works by Baker indicate the shift was profitable and, artistically speaking, highly merited. His early works are often attributed to him, while he later signed 'E. Taylor Baker', 'E.T. Baker' and developed a distinct intertwined initial monogram by the late 1880s.
He painted in the draftsman style of his later contemporaries, undoubtedly influencing many of them. Still, he enhanced his works with flashes of luminescence, which progressed from the Hudson River School through the works of Fitz Hugh Lane and William Bradford. Not favoring any particular style of ship, he painted all types. His best known work is of the new London whaleship George, captained by his relative, William M. Baker. More
Augustus Jules Bouvier, (1827–1881)
Venetian scene
artist signed lower right
Augustus Jules Bouvier (1827–1881) was one of the first artists known to have exhibited at the British Institution. His entry into the exhibit was a picture entitled The Fish Market in Boulogne.
Bouvier was a student at the Royal Academy. He later went on to complete his studies in France and Italy. In 1852 he exhibited for the first time at the Royal Academy, he continued to exhibit there over the years that followed. Many of his exhibitions consisted of genre scenes and a series of idealised feminine portraits: Jessica in 1854, Emily in 1857, and Hermosita in 1859. From 1865 onwards he was a member of the New Watercolour Society.
17TH C DUTCH SCHOOL
Warships Approaching Amsterdam
illegibly signed lower right
The distinctive tower on the right was part of the West Indian Company warehouse complex.
The Dutch School were painters in the Netherlands from the early Renaissance to the Baroque. It includes Early Netherlandish (1400–1500) and Dutch Renaissance (1500–1584) artists active in the northern Low Countries and, later, Dutch Golden Age painting in the United Provinces.
Many painters, sculptors and architects of the seventeenth century are called "Dutch masters", while earlier artists are generally referred to as part of the "Netherlandish" tradition. More
JOSEPH B. SMITH, (NY/NJ, 1798-1876)
Marine Portrait of the Schooner "J.W. Seaver"
The boat is painted in detail and perspective, the name appearing on a quarterboard above the trailerboard at the bow and again on a quarterboard near the stern as well as on a large red white and blue pennant flying from the foremast. The vessel is under full sail with delineated sail seams and reef points, the standing and running rigging accurately rendered. There are six sailors on the deck, as well as a helmsman and a woman with two children. Flying from the top of the mast is a house flag featuring the Masonic emblem, the US flag flying from the gaff. The water is beautifully rendered, to the left is a spit of land with a lighthouse.
Joseph B. Smith (1798-1876) was born in New York City in 1798, and trained for the printing trade. His son and partner in many paintings, William S., was born in 1821.
Joseph's earliest known work was a lithograph of his printing depicting the clipper ship Mechanic's Own. His earliest known painting was the 1849 portrait of the Steamer Hartford underway and bound for the California goldfields. In partnership the father and son Smiths are known to have produced at least four large-folio works.
The Smith's did not always sign their paintings, often electing to affix a business card to the reverse. Even without their signature, many of their works can be positively identified by their American flag, at once distinctive and used by them consistently in this form (a full rippled flag streaming in the wind to the right with a mostly straight top and a somewhat concave form to the other three sides).
William survived the Civil War and was discharged in 1865. Perhaps because of his father's advanced age, their artistic partnership was never renewed and William himself is lost to history. Joseph, however, moved to the Philadelphia area where he is known as a lithographer and from a few small sketches and watercolors. He died in Camden, New Jersey in 1876. More
Otis Cook, (American 1900-1980)
Gloucester Harbor
20 x 24 in (50.8 x 61 cm)
Otis Pierce Cook Jr. (1900–1980) was an American painter born in New Bedford, Massachusetts. He was mostly famous for his oil paintings of coastal and landscape scenes and studied under Emil Gruppe of Gloucester. He lived much of his life in Rockport, MA and Cape Ann was the focal point for much of his work. He was a member of the Rockport Art Association. In 1935, Cook had an art gallery on Bearskin Neck in Rockport and was a member of The Rockport Art Galleries along with William Lester Stevens, Joseph Eliot Enneking, Arthur J. Hammond, Marian Parkhust Sloane and Frank M. Rines.
His paintings are in the permanent collections of major museums and private collections across America, including in the Springfield Museum of Art. More
Otis Cook (American 1900-1980)
Gloucester Harbor
20 x 24 in (50.8 x 61 cm)
John Hare, (American 1908-1978)
Wet Weather and Wet Fog, Gloucester
16 x 20 in (40.6 x 50.8 cm)
John Cuthbert Hare, 1908-1978, was a watercolorist who painted boats, seascapes and harbor scenes. He was primarily associated New England, especially Cape Cod, Massachusetts where he spent his summers from 1938 to 1965. However, he was in Florida where he was a member of the St. Augustine Art Association, and other locations on the East Coast. More
John Hare (American 1908-1978)
Wet Weather and Wet Fog, Gloucester
16 x 20 in (40.6 x 50.8 cm)
William Pierce Stubbs, (American 1842-1909)
Ship in High Seas
22 x 36 in (55.9 x 91.4 cm)
William Pierce Stubbs (American, 1842-1909)
The racing schooner Clara R. Harwood off Cape Anne lighthouse
signed 'W.P.Stubbs' (lower left)
22¼ x 36 in. (56.5 x 91.5 cm.)
William Pierce Stubbs (1842-1909), was an American sea painter, born in Bucksport, Maine in 1842. As the son of sea captain his childhood years were filled with a fascination for the sea and the great sailing ships that worked their way along the Maine coast. Little is known about the early period of his life, but from the knowledgeable quality shown in his skilled ship portraits, it is evident that he served at least some time at sea.
With no formal art training, Stubbs achieved considerable success as a ship's portraitist. In 1876, after moving to Charlestown, Massachusetts, he opened his first studio in Boston. He was painting marine portraits exclusively by 1877. At the international maritime exhibition in Boston in 1890 his work was noted for its straightforward style depicting detailed and accurate broadside views of his subjects.
In 1894 the artist developed a growing melancholia and was committed to the Worcester state hospital where he died in 1909. More
CHINA TRADE PAINTING
Bark 'Martha Davis'
Ship's Portrait of Bark 'Martha Davis' (built 1873 in East Boston by Smith & Townsend), starboard profile under full sail, entering Hong Kong harbor with many out-of-scale craft ahead, European style buildings on shore. Painted by unidentified Chinese artist circa 1880. Flying a 35-star American flag.
The 'Martha Davis' burnt to the waterline in Hilo, Hawaii harbor on June 13, 1905.
A bark has square rigged sails on the foremast and mainmast, and the mizzenmast is fore and aft rigged. An additional square rigged mast (a total of four) was common.
JAMES H. WHELDON (UK, 1830-1895)
Clipper Ship "Three Brothers" passing the Boston Light
initialed "J.W." lower left
Three Brothers.
Built as the Steam/Sail Ship 'Vanderbilt' in 1856-7, by Jeremiah Simonson in Greenpoint, Long Island, NY, for Commodore Vanderbilt as his yacht; she was converted to full sail after being sold at auction by the US Govt to the Howes Brothers of San Francisco for the Liverpool run, which she worked from 1873 to 1885, when she became a coal hulk at Gibraltar.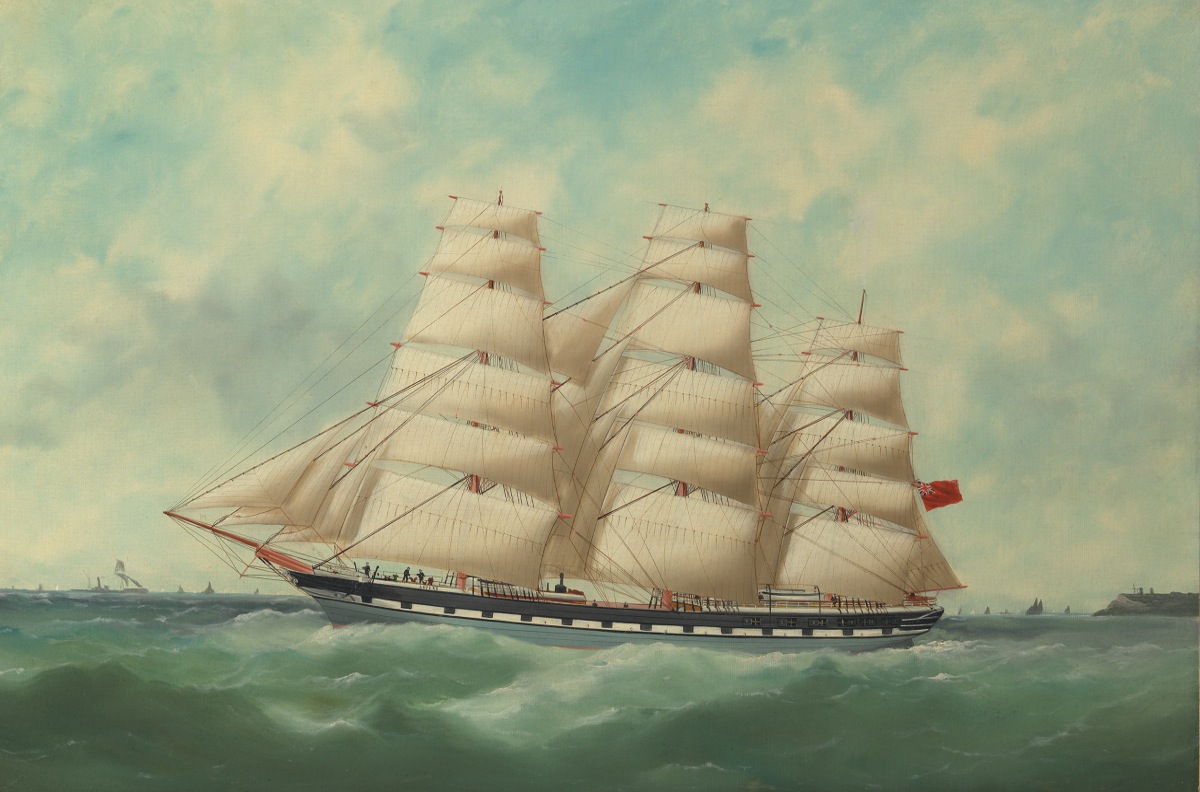 James H. Wheldon (British, 1830-1895)
"The Clipper Ship 'Superb' off Yorkshire, 1866"
HMS Superb was an ironclad battleship designed by Sir Edward Reed for the Ottoman Navy, and was built in Britain by Thames Ironworks under the name of Hamidieh. She had both engines and sails.
Together with the two ships of the Belleisle class and HMS Neptune, she was compulsorily purchased by the British Government at the time of the Russian war scare of 1878; she was extensively altered after her purchase, leading to a five-year gap between her launch and her completion.
She commissioned at Chatham for service in the Mediterranean on 4 October 1880, and remained on station for seven years. She took part in the bombardment of Alexandria, where she fired 310 shells of 10-inch calibre at the Egyptian forts; she received ten hits in return, seven of them on her armour, with no casualties. After reconstruction at Chatham from 1887 to 1891 she was guard ship on the Clyde until 1894, when she paid off into Fleet Reserve. Her only other sea time was at the time of the manoeuvres of 1900. In 1904 she was used as a hospital overflow ship for infectious cases, until she was sold in 1906. More
James Wheldon was born in Hull in 1832. He worked solely as a marine artist and is known mainly for his depiction of ship's portraits. However examples are known by him of Arctic whaling scenes as well as British and American naval vessels. His style is somewhat similar to that of his contemporary hull artist, Henry Redmore. He moved down to southern England in his later years and died in London on 1895. More
James H. Wheldon (British, circa 1830-1895)
Ships navigating a busy channel
60.96 × 91.44 in (154.8 × 232.3 cm)
James H. Wheldon (British, born circa 1832-1895)
Whaling Ships: Diana and Anne in the Arctic
24 x 36 in. (60.9 x 91.4 cm.)
The Diana was a 350 ton German built steam/sail whaler. Based out of Hull and under the command of Captain John Gravill she is remembered for an ill-fated 14 month voyage in 1866-7 where she was icebound for six months. 13 crew members including the Captain did not survive. In 1868 she was wrecked off the Lincolnshire coast signalling the end of Hull's whaling trade. More
The Ann Alexander was a whaling ship from New Bedford, Massachusetts, notable for being rammed and sunk by a wounded sperm whale in the South Pacific on August 20, 1851.
According to a 1912 account, with Capt. Loammi Snow of Rochester, Massachusetts, in command, on a voyage in October 1805 from New York to Leghorn with a cargo of general merchandise and a deck cargo of lumber that was Snow's personal property, she encountered the British fleet a few days after its victory at the battle of Trafalgar. Informed that Lord Nelson had died aboard the Victory and the new commander, Admiral Collingwood, was attempting to repair the damage done to numerous ships during the naval action, Snow sold the British Navy lumber, flour and apples on the spot.
According to the same 1912 account, in 1807, with Snow still in command, the Ann Alexander, on a voyage from St. Ives, England to Leghorn, was captured by a Spanish privateer who set a course for Spain. She was immediately captured the next day by a British man-of-war, and turned the ship toward Gibraltar. Just short of landfall, they were captured again by another Spanish privateer and taken to Algiers. Upon landing, Snow immediately reported the previous British prize captain for piracy, preventing the authorities from knowing the ship's latest seizure was by Spain. The Algerian authorities allowed him to take possession of his ship and proceed to Leghorn.
More
James H. Wheldon (British, b. ca. 1832–1895)
American Confederate raider Alabama off Gibraltar , 1863
44.4 x 59.6 cm. (17.5 x 23.5 in.)
The Alabama, a Confederate Raider during the American Civil War, was secretly built in Merseyside and launched on 31st July, 1862 at a cost of £51,000. She was built for speed and was lightly armed. Originally given the name Enrica to evade American street agents and the British Foreign Office, she later changed her name to Alabama. At the end of July 1862 with the British government about to seize her, she left Liverpool on what was supposed to be her final run, when in fact she was heading for the open sea. So began her two year rein of terror, capturing or sinking 67 Union vessels valued at nearly $6 million from 1862-1864. During these two years, the Alabama never put into port for repairs or provisions, instead taking fuel, food and ammunition from the merchant ships which she captured and destroyed.
She had an overall length of 220 feet, a breadth of 32 feet and her gross tonnage was 1050 and carried a complement of 145. She was a wooden corvette of fairly light scantling, with a choppered lower hull, three masts with yards on the fore and main and a single left-handed retractable brass propeller. She carried six 32-pound broadside carriage guns and one 100-pound Blakely rifled gun and was captured by Raphael Semmes.
Leaking and fouled after two years at sea, she put into Cherbourg on 16th June, 1864 for repairs. Here she was cornered by the U.S. cruiser Kearsage, a chain-clad Federal sloop of war under the command of Captain Winslow. The Alabama was forced into the English Channel and once free of the three-mile limit, a fierce and circling battle commenced, watched by spectators on the shore. The Kearsage's superior arms eventually put the Alabama out of action and sent her to the bottom of the sea. More
Port Side View of a US Navy Warship "US Frigate 'Columbia'
bearing the broad pendant of Commodore Edward R. Shubrick, Esqr."
The first USS Columbia of the United States Navy was a three-masted, wooden-hulled sailing frigate of the US Navy, rather for 50 guns. She was built at Washington Navy Yard. Her keel was laid in 1825, but as was typical of much Navy construction during this period, she was not launched until much later, on 9 March 1836.
On her first cruise, Columbia rounded the Cape of Good Hope to become flagship of Commodore George C. Read in the East India Squadron. She returned to the United States by way of Cape Horn, becoming one of the first U.S. naval ships to circumnavigate the globe. She participated in the 1838 Second Sumatran Expedition in response to a Maylay attack on an American merchant vessel.
Columbia served as flagship of the Home Squadron; cruised on Brazil Squadron and in the Mediterranean Squadron. She returned to the Brazil Squadron as flagship from November 1845 – October 1847, and was placed in ordinary at Norfolk Navy Yard upon her return home. Except for a cruise as flagship of the Home Squadron from January 1853 – March 1855, she remained at Norfolk until the outbreak of the American Civil War. Columbia was scuttled and burned by Union forces to avoid her capture by Confederates upon the surrender of Norfolk Navy Yard on 21 April 1861. Following the close of the war she was raised and sold at Norfolk on 10 October 1867. More
Edward Rutledge Shubrick (SC, 1793-1844), began his naval career as a Midshipman in 1812, was Captain of the Columbia 1837-44, died at sea, and was so loved by his crew that they erected a monument to him in Charleston. The USS 'Columbia' was a Raritan class frigate, 50 gun, 175 foot, 1726 tons, launched in 1836 and burned at Norfolk in 1861 to avoid capture by the Confederacy. Her major action under Shubrick was the Second Sumatran Expedition of 1838.
SALLY CALDWELL FISHER (ME, 1951 - )
"Spectator Fleet"
39" x 33"
Sally Caldwell Fisher (b. 1951) is an American Painter who has gained recognition in the United States for her scenes of coastal life. More
DIMETRIOUS ATHAS (Contemporary Mass)
"Curtis Island Light, circa 1900"
27" x 33"
Dimetrious Athas, a native of Salem, MA was educated at Berkeley University, California in commercial design and illustration. Since 1976 Athas has been painting luminous realistic scenes of catboats, sloops and schooners - the remaining splendors of sail which he feel records their beauty for future generations. Each season Dimetrious participates in many races so that he can accurately portray each race. The final intention is to bring to the viewer the feel of the wind in the sails and the drama of the seas. More
DIMETRIOUS ATHAS (Contemporary Mass)
"Racing the Coast"
WAR OF 1812 NAVAL PRINT - Hand colored aquatint: "To Commodore Bainbridge the officers, seamen and Marines of the United States Frigate Constitution: this view of their Glorious capturing the British Frigate Java off the coast of Brazil on the 29th Xber 1812, after a sanguinary conflict of 1 hour & 55 minutes, is with respect dedicated to them & the sons of freedom by an admirer of American valour & patriotism." Marked at bottom of image "Drawn under the direction of a witness of the action by W. G." No publisher or artist identified. Undated, c. 1815.
William Bainbridge (May 7, 1774 – July 27, 1833) was a Commodore in the United States Navy. During his long career in the young American Navy he served under six presidents beginning with John Adams and is notable for his many victories at sea. He commanded several famous naval ships, including USS Constitution and saw service in the Barbary Wars and the War of 1812. Bainbridge was also in command of USS Philadelphia when it grounded off the shores of Tripoli in North Africa, resulting in his capture and imprisonment for many months. In the latter part of his career he became the U.S. Naval Commissioner. More
USS Constitution is a wooden-hulled, three-masted heavy frigate of the United States Navy, named by President George Washington after the Constitution of the United States of America. Launched in 1797. The Constitution was larger and more heavily armed and built than standard frigates of the period. Her first duties with the newly formed U.S. Navy were to provide protection for American merchant shipping during the Quasi-War with France and to defeat the Barbary pirates in the First Barbary War.
Constitution is most famous for her actions during the War of 1812 against the United Kingdom, when she captured numerous merchant ships and defeated five British warships: HMS Guerriere, Java, Pictou, Cyane, and Levant. The battle with Guerriere earned her the nickname of "Old Ironsides" and public adoration that has repeatedly saved her from scrapping. She continued to serve as flagship in the Mediterranean and African squadrons, and circled the world in the 1840s. During the American Civil War, she served as a training ship for the United States Naval Academy. She carried US artwork and industrial displays to the Paris Exposition of 1878.
Retired from active service in 1881, Constitution served as a receiving ship until designated a museum ship in 1907. More
MONTAGUE DAWSON, (British, 1895-1973)
"Blowing Hard: The Thermopylae"
Thermopylae was an extreme composite clipper ship built in 1868 by Walter Hood & Co of Aberdeen, to the design of Bernard Waymouth of London. Thermopylae was built for the Aberdeen Line, which was founded in 1825 by George Thompson. She measured 212' × 36' × 20.9', with tonnage 991 GRT, 948 NRT and 927 tons under deck. The under deck coefficient was 0,58. Rigged with royal sails, single topgallant and split top-sails.
Thermopylae was designed for the China tea trade, and set speed records on her maiden voyage to Melbourne—63 days, still the fastest trip under sail. In 1872, Thermopylae raced the clipper Cutty Sark from Shanghai back to London. Thermopylae won by seven days after Cutty Sark lost her rudder. From 1882 onward, Thermopylae took part in the Australian wool trade; however, on this route the Cutty Sark proved faster.
In 1897 she was sold to Portugal for use as a naval training ship and renamed the Pedro Nunes. On 13 October 1907, the Portuguese Navy towed her down the Tagus river using two warships, and before Amelia de Orleans, Queen of Portugal, she was torpedoed with full naval honours off Cascais. More
Montague Dawson RMSA, FRSA (1890–1973) was a British painter who was renowned as a maritime artist. His most famous paintings depict sailing ships, usually clippers or warships of the 18th and 19th centuries. More
Cornelis Christiaan Dommersen (Dutch, 1842-1928)
Bassin, Boulogne sur Mer
77.8 x 128.7cm (30 5/8 x 50 11/16in)
Boulogne-sur-Mer is a city in Northern France and lies on the Côte d'Opale, on the English Channel, the country's largest fishing port, specialising in herring.
Boulogne was the major Roman port for trade and communication with Britain. After a period of Germanic presence following the collapse of the Empire, Boulogne was at the centre of an eponymous county of the Kingdom of France during the Middle Ages, and was occupied by the Kingdom of England numerous times due to conflict between the two nations. More
The city's 12th-century belfry is recognised by UNESCO as a World Heritage Site.
Cornelis Christiaan Dommersen ( 11 November 1842 – 23 May 1928) was a Dutch painter and a watercolourist. Cornelis Christiaan's older brother was Pieter Cornelis Dommersen (1833-1918), was a painter as well, gaining more fame than his younger brother. In around 1850 Pieter Cornelis Dommersen moved to England and stayed there till his death in Hexham in 1918.
Cornelis Christiaan specialized in sea -and river scapes and coastal scenery as those paintings had found a revival during the 19th century in Europe. He traveled abroad to countries such as England, America, Belgium and France. However, in the end he found satisfaction painting not only river- and seascapes in the Netherlands but also the interior of villages and towns along the rivers. More
Louis Artan de Saint-Martin (Dutch, 1837-1890)
Souvenir of Guernsey
50.5 x 100cm (19 7/8 x 39 3/8in)
Louis Victor Antonio Artan de Saint-Martin (1837 - 1890) was a Dutch painter and etcher. Artan came from a noble family, his father was a senior officer and wing adjutant of Prince Frederick of Orange-Nassau. The family moved to Brussels in 1842 and acquired the Belgian nationality.
He began a military training but left the army when he was twenty. The next six years he traveled in the Belgian Ardennes. He made ​​numerous studies of nature and became acquainted with landscape painters Edouard Delvaux and Henri-Joseph Marcette. From 1858 he spent the winters in Paris. He painted on the banks of the Seine, close to Fontainebleau and Barbizon, where he met with the French avant-garde painters, pioneers of romantic realism, and pioneers of impressionism. He was also influenced of the French marine painter Eugène Boudin.
He returned in 1860 back to Spa. In the Netherlands, he painted in Breskens, Vlissingen and Terneuzen. In 1864 he lost his fortune and was forced by painting professionally. That year he won a contest organized by the Cercle Artistique et Littéraire.
In 1868 he co-founded the Société Libre des Beaux-Arts. The association defended the realism and fought the omnipotence of the Academy and the Salons. In 1869 he co-founded the Société Internationale des Aquafortistes an initiative of Félicien Rops.
During the years 1873-1874 he stayed in Antwerp for the first time. He moved there in the circles of progressive painters who were in conflict with the academic painters. He broke with the tradition of conventional painted seascapes and elected the new realistic trend.
In 1880 he switched to the impressionist style. He was fascinated by the fleeting aspects of his surroundings and became a painter of light and shade.
In 1881, he and was knighted in the Order of Leopold. He won a gold medal at the Amsterdam Exhibition in 1883.
His last years he spent in De Panne. He converted an old customs shed into a studio and painted it in "Mon atelier à La Panne", considered one of his masterpieces (now destroyed). More
HEBER C. TODD (19th c. Mass)
Trawler at Pier
TODD REIFERS (IL/ME, 1948 - )
"Gloucester Harbor"
33 1/2" x 39 1/2"
Todd Reifers, a lifelong Indiana resident, was born in Lafayette, Indiana in 1948.
Jan van Couver (Dutch, 1836-1909)
Dutch Harbour,
76.2 x 101.6cm (30 x 40in)
JAN VAN COUVER (HERMANUS KOEKKOEK JR.), (Amsterdam 1836-1909 Londen) a pupil of his father Hermanus Snr, he lived and worked in Amsterdam and Nieuwer-Amstel (now Amstelveen). During the eighteen sixties he regularly stayed in London, where he settled permanently in 1869 and opened an art gallery in 1880. As well as his own paintings, Hermanus Jnr sold a lot of work in England of family members, including his father and uncle B.C. Koekkoek. He himself painted sea, river and beach views and also worked under the pseudonyms 'Jan van Couver' and 'L. van Staaten'. He also worked with the landscape painter Lion Schulman both in England and the Netherlands. Around 1880 his work became less romantic and the influence of The Hague School is more evident. More
WILLIAM PASKELL (MA, 1866-1951)
Sailing Bark Passing a Maine Lighthouse
17 1/2" x 28 1/2"
William F. Paskell (1866-1951) was born in London and moved to Boston in 1872 with his family. By the age of twenty-one he was already mentioned in the press as a very promising artist, with his paintings hanging beside the work of Childe Hassam and John J. Enneking in the annual Boston Art Club exhibitions. Paskell married in 1900 and by 1905 had four children. In order to provide for his family, Paskell pushed his paintings on the market faster then the market could absorb them and thus depressed the prices of his own works. However, after years of neglect, Paskell's paintings are gradually earning the respect they deserve.
Paskell started painting a fairly tight style of impressionism, and gradually reached a loose impressionistic style before World War I. He told one of his grandchildren that to be best appreciated, his large landscape paintings had to be seen at twenty-five feet or more. Paskell painted up to the day of his death, dying in Boston in 1951 at the age of eighty-five, in humble circumstances. He is considered one of the last "White Mountain School of Painters" with a connection to the 19th century. He painted both watercolors and oils. His paintings were exhibited at the Boston Art Club. More
MILTON CLARK AVERY (NY/CT, 1885-1965)
New York Harbor
20 1/2" x 23 1/2"
Milton Avery (1885–1965) was an American modern painter. Born in Altmar, New York, he moved to Connecticut in 1898 and later to New York City. Avery began working at a local factory at the age of 16 and supported himself for decades with a succession of blue-collar jobs. His interest in art led him to attend classes at the Connecticut League of Art Students in Hartford, and over a period of years, he painted in obscurity while receiving a conservative art education. In 1917, he began working night jobs in order to paint in the daytime.
In 1924, he met Sally Michel, a young art student, and in 1926, they married; her income as an illustrator enabled him to devote himself more fully to painting. For several years in the late 1920s through the late 1930s, Avery practiced painting and drawing at the Art Students League of New York. Roy Neuberger saw his work and thought he deserved recognition. Determined to get the world to know and respect Avery's work, Neuberger bought over 100 of his paintings, starting with Gaspé Landscape, and lent or donated them to museums all over the world. With the work of Milton Avery rotating through high-profile museums, he came to be a highly respected and successful painter.
In the 1930s, he was befriended by Adolph Gottlieb and Mark Rothko among many other artists living in New York City in the 1930s–40s.
The Phillips Collection in Washington, D.C., was the first museum to purchase one of Avery's paintings in 1929; that museum also gave him his first solo museum exhibition in 1944.[4] He was elected a Fellow of the American Academy of Arts and Sciences in 1963.
Milton Avery is buried in the Artists Cemetery, in Woodstock, Ulster County, New York. After his death in 1965, his widow, Sally Avery, donated the artist's personal papers to the Archives of American Art, a research center of the Smithsonian Institution. In 2007, the Archives optically scanned these papers and made them available to researchers as the Milton Avery Papers Online. More
ARTHUR WILDE PARSONS (UK, 1854-1931)
Coastal Shipwreck, c. 1880
signed lower left "A.W. Parsons"
19 3/4" x 29 3/4".
PARSONS, Arthur Wilde, RWA.
(1854-1931)
At the age of 58 he had already achieved considerable fame as a painter in oils and watercolour of marine and coastal subjects. As a boy he was educated privately, but as an artist he was entirely self taught. His aunt was married to the Rev. Ralph Wilde who was uncle to both Oscar Wilde and Arthur Wilde Parsons. Arthur married in 1873 and lived in Hampton Park where he had a studio which he shared with his brother Featherstonehaugh, a portrait painter. He was of independent means and able to devote his life to painting. In 1908 he spent some time in Italy, touring, painting and studying. He came back with an extensive portfolio. In 1909 his first pictures were accepted by the Royal Academy. Fifteen of his pictures are in the Bristol Art Gallery. Queen Mary, who admired his work, invited him to paint a number of miniature pictures for the Royal Doll`s House at Windsor.
More