Agustina Raimunda María Saragossa
Augusto Ferrer-Dalmau
Agustina de Aragón
Portrait of Agustina Raimunda Saragossa
Barcelona 1786 Ceuta 1857.
"Courage Gunners, here is woman when ye can not anymore!"
Agustina Raimunda María Saragossa Domènech, or Agustina of Aragón,
was born in Barcelona on March 4, 1786, within a peasant family totaling 11 children.
She was a Spanish heroine who defended Spain during the Spanish War of Independence, first as a civilian and later as a professional officer in the Spanish Army. Known as "the Spanish Joan of Arc," she has been the subject of much folklore, mythology, and artwork, including sketches by Francisco de Goya and the poetry of Lord Byron.
Augustina, the Maid of Saragossa
YE who shall marvel when you hear her tale,
Oh! had you known her softer hours!
* * * * * * * * * * * * * * * * * *
Scarce would you dream that Saragora's tower
Beheld her smile in danger's Gorgon face,
Then the closed ranks and lead in glory's fearful chase.
Her lover sinks-she sheds no ill-timed tear;
Her chief is stain=-she fills his fatal post;
Her fellows flee-she checks their base career;
The foe retires=-she heads the sallying host.
Lord Byron's "Childe Harold."
Agustina contracted marriage in 1803 at the age of 16, to
Juan Roca
At the time mobilized soldiers brought their families with them to where they were assigned. Juan Roca was assigned to an artillery position Zaragoza. It was then (1808) that Zaragoza's three entrances were besieged and subjected to incessant bombardment by the French batteries.
Baturro (a term for an Aragonese peasant)on duty during the Siege of Zaragoza
In the summer of 1808, Zaragoza was one of the last cities in northern Spain not to have fallen to the forces of Napoleon and was therefore, by the time of the siege, choked with vast numbers of refugees fleeing the advancing Grande Armée.
Francisco de Goya y Lucientes,
El general José de Palafox, 1814
In early June, the French began to advance on Zaragoza, which had not seen war for about 450 years and was held by a tiny provincial force under José de Palafox, whose heroism would come to rival Agustina's.
From the "Desastres de la Guerra" series by Francisco de Goya depicting Agustina de Aragón
On June 15, 1808, the French army stormed the Portillo, an ancient gateway into the city defended by a hodgepodge battery of old cannons and a heavily outnumbered volunteer unit. Agustina, arriving on the ramparts with a basket of apples to feed the gunners, watched the nearby defenders fall to French bayonets.
David Wilkie (1785–1841)
The Defence of Saragossa
Height: 94 cm (37 in). Width: 141 cm (55.5 in)
The Spanish troops broke ranks, having suffered heavy casualties, and abandoned their posts. With the French troops a few yards away, Agustina herself ran forward, loaded a cannon, and lit the fuse, shredding a wave of attackers at point blank range.
M. Navarro Cañizares
The defense of Zaragoza
January Suchodolski (1797–1875)
Assault on Saragossa (Storming the walls) 1845
467 × 600 cm (183.9 × 236.2 in)
The sight of a lone woman bravely manning the cannons inspired the fleeing Spanish troops and other volunteers to return and assist her. After a bloody struggle, the French gave up the assault on Zaragosa and abandoned their siege for a few short weeks before returning to fight their way into the city, house-by-house.
Benjamin Robert Haydon
The Maid of Saragossa
by Benjamin Robert Haydon
With the human cost proving truly terrible on both sides and the city's defences hopelessly compromised, Palafox finally accepted the inevitable and was forced to surrender the city to the French.
Despite the eventual defeat, Agustina's action became an inspiration to those opposing the French.
When it finally fell to the French in 1809, Zaragoza had become a city of corpses and smoking rubble: 12,000 people would remain of a prewar population of over 100,000.
Agustina Raimunda Maria Saragossa i Domènech
Agustina was
captured, she was imprisoned, and saw Eugenio, her son, die at the hands of her French guards. She subsequently mounted a daring escape and became a low-level rebel leader for the guerrilleros, helping to organise raids and attacks that harassed the French.
EUGENIO LUCAS Y PADILLA
THE SIEGE OF SARAGOSSA
As the strategic situation deteriorated for the French Army, her role became increasingly orthodox as supplies and training were covertly provided by the Duke of Wellington.
Galvez Juan
Agustina de Aragon 1810
Height = 60 cm; Width = 50 cm
Augustina is standing, full body, looking at viewer, by a layered canon stationed next to a tree. Black bustier dresses with red shawl, apron over her skirt caught on the hip, she points to the battlefield with his right arm extended, pointing with a stick wick. At her feet lie the bodies of several dead soldiers. In the background, and bottom, groups of agitated civilians fighters attacking the invader, ready to resist and defend the city of Zaragoza with gun batteries belonging to the Spanish troops annihilated by the armies of Napoleon. More
Jack Du Couvent Des Capucins
Siege of Zaragoza
Steel engraving by K. Girardet
Engraved by P. Girardet. 1837.
Jules Girardet (1856–1938)
Amid bitter street fighting in which quarter was neither given nor received, French infantry assault the grim defenders of a church during the siege of Saragossa.
Date 1906
Piffard Harold Hume
Saragossa
Maurice Orange
Surrender of Zaragoza, 1893
Agustina began to fight for the allied forces as Wellington's only female officer and ultimately rose to the rank of Captain. On June 21, 1813, she acted as a front line battery commander at the Battle of Vitoria under the command of Major Cairncross, who reported directly to Wellington himself.
James Prinsep Beadle
Battle of Vitoria, 21 June 1813
On June 21 1813, at 8 a.m., Wellington ordered a co-ordinated attack on the French forces near the town of Vitoria, Spain. By nightfall, the French army had been defeated and Wellington had won the key battle of the Peninsular War. Napoleon's brother, Joseph Bonaparte, barely escaped with his life. French power in Spain had been broken.
.
After the war, she married a doctor and, late in life, she became a familiar sight in Zaragoza as a respectable old lady, wearing medals, who used to go for walks around the Portillo. Agustina de Aragón died at the age of 71 in
Ceuta
. Until 1870 her remains lay in the
Church of Our Lady of the Pillar
until 14 June 1908 when she was moved to the Chapel of the Annunciation in the Church of Our Lady (
Nuestra Señora del Portillo
). More
Her widower and heirs are granted baronage Belchite Cobos on July 19, 1909, to mark the first centenary.
AGUSTINA OF ARAGON by JUAN BAUTISTA AURORA
Spanish. 1950. Director: Juan de Orduña.- Screenplay: Vincent Escrivá.- military advisers: Antonio Fernandez-Prieto and Dominguez, Jose Artero Soteras.- Production: Cifesa.- Scenery: Siegfried Burmann.- Cast: Aurora Bautista (Agustina de Aragon ), Fernando Rey (General Palafox), Juan Espantaleon (Uncle George), Guillermo Marin (Napoleon Bonaparte), Rosario García Ortega (Countess of Bureta), Manuel Luna, Virgilio Teixeira (the guerrilla John), Jesus Tordesillas (General Torres). More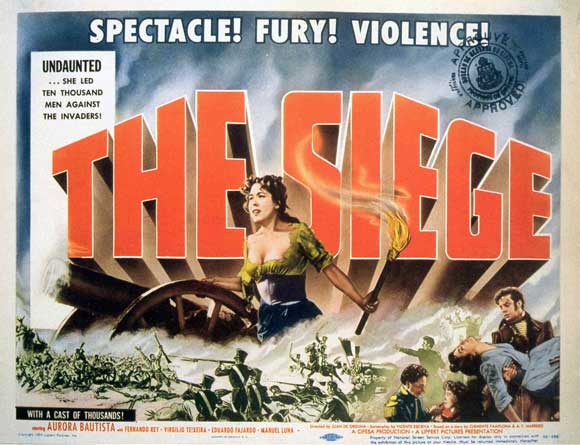 Agustina de Aragon (1929)
Stars: Santiago Aguilar, José María Alonso Pesquera, Adolfo Bernáldez
Agustina de Aragón (Juan de Orduña, 1950)



JOSE ANTONIO DUCE





Zaragoza - Agustina de Aragon





Agustina Zaragoza Memorial,

by Mariano Benlliure